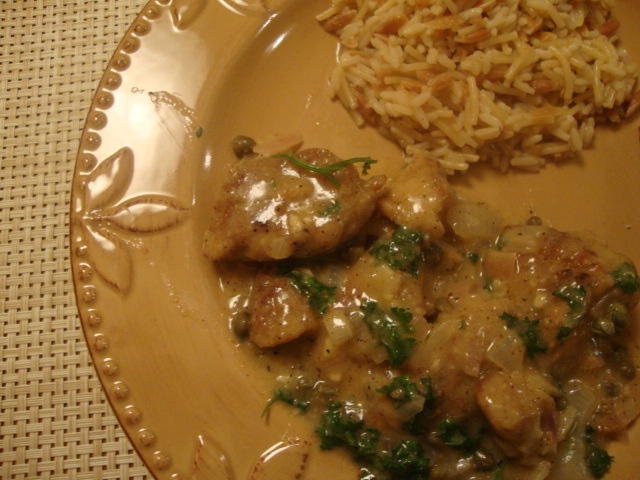 I LOVE this recipe! It is so full of flavor, easy to make and absolutely delicious. My husband has already claimed the leftovers for his breakfast tomorrow!
(Update: I made this with a sliced Field Roast and it was wonderful!)
INGREDIENTS:
6 large pieces plain seitan (about a pound–I used Westsoy in the blue box and just broke it up into small pieces)
Whole wheat flour for dredging (about 3/4 C)
1/4 C olive oil
1/2 C diced shallots
1/2 C diced onion
1 tsp chopped garlic
1/4 C drained capers
1 C dry white wine
1/4 C lemon juice
1 C vegetable broth
2 Tbs all-purpose flour
4 Tbs soy margarine (Earth Balance)
1 C chopped fresh parsley
1/2 tsp sea salt
1/2 tsp black pepper
DIRECTIONS:
Dredge the seitan in the whole wheat flour, shaking off the excess. Heat 2 Tbs olive oil over high heat in a large skillet. Add the seitan and saute until crisp and tender, about 30 seconds per side.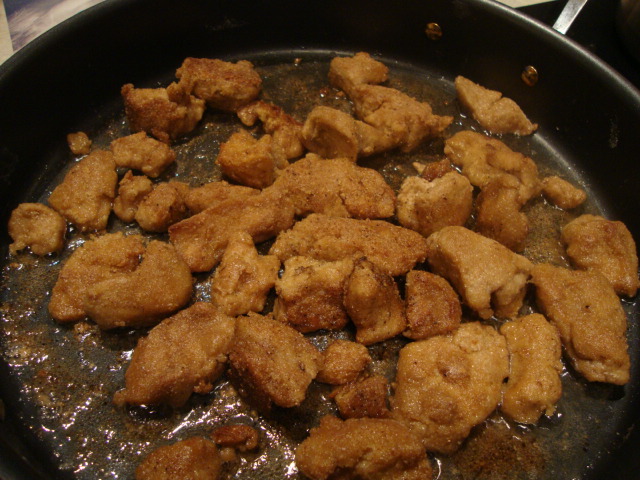 Transfer seitan to a plate. Heat the remaining 2 Tbs oil in the same skillet. Add the scallions, onions, garlic, and capers and saute, stirring frequently, until softened, 1-2 mins. Add the wine, and cook, stirring frequently, until reduced by half. Whisk in the lemon juice, and cook until sauce has reduced a bit more, 1-2 mins. Whisk in broth and the all-purpose flour and bring to a boil. Reduce heat and simmer for 1 min to thicken. Whisk in the margarine, parsley, salt and pepper.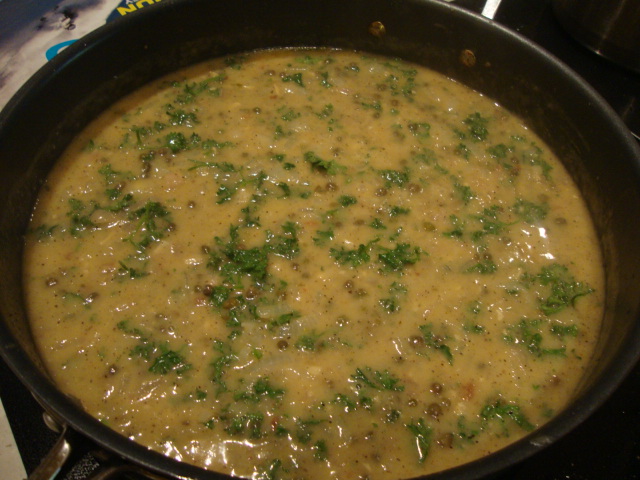 Pour over seitan and serve immediately. (I added the seitan to the pan and coated it with the sauce). This sauce was so rich and lemony…enjoy!
Recipe source: The Kind Diet