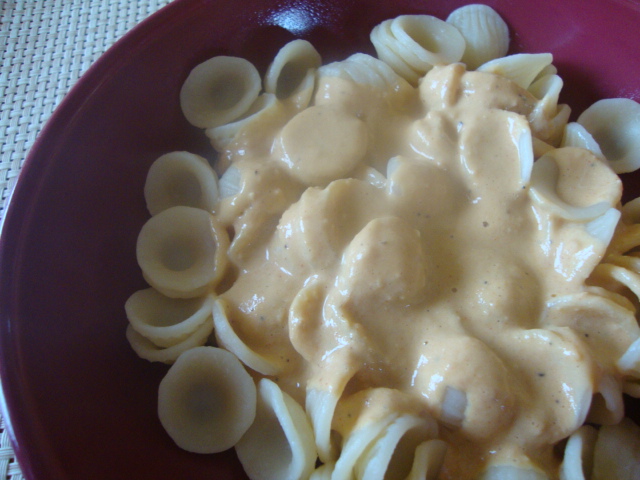 This comes from Lauren Ulm's cookbook, Vegan Yum Yum and is by far the best non-dairy "cheese" sauce I've tasted yet! The only thing I changed was adding 1/2 C Tofutti sour cream which made this sauce perfectly creamy!
INGREDIENTS:
3-4 C small pasta
Sauce:
1 C soy milk
1/3 rounded raw, unsalted cashews
1/4 C nutritional yeast
3 Tbs tamari (or soy sauce)
2 Tbs Earth Balance (or Smart Balance) margarine
1 Tbs tahini
1 Tbs lemon juice
2 tsp Dijon mustard
1/2 tsp paprika
1 pinch nutmeg
1 pinch salt
Black pepper, to taste
2-4 garlic cloves
I added 1/2C Tofutti Sour Cream and used SMOKED paprika and WOW! It was so creamy and flavorful!
DIRECTIONS:
Bring a pot of water to a boil and add noodles. Cook until tender, but not mushy. Meanwhile, to make sauce, mix all sauce ingredients in a food processor or blender until smooth. When noodles are finished, drain and return to pot. Add as much sauce as you'd like and heat and stir. (What I did is transfer the sauce to a small saucepan and heat–this is also when I added the Tofutti sour cream. Then I just ladled the sauce on a serving of pasta). Top with Rice Parmesan and enjoy!
Note: for leftovers, I don't recommend microwaving them. Keep sauce separate from pasta leftovers and reheat sauce in a pan over the stove and nuke the noodles. Sauce gets too dried out otherwise.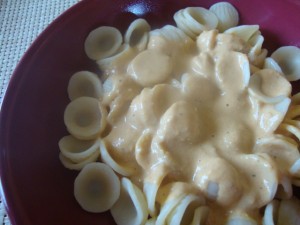 Recipe source: Vegan Yum Yum