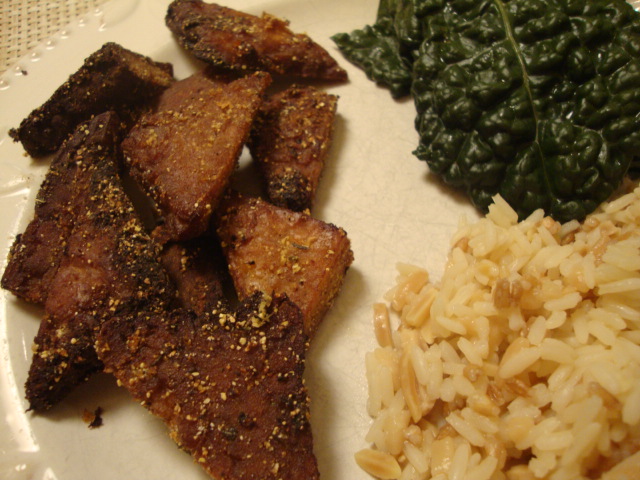 I have been trying for some time now to find a recipe with tempeh that The Husband will like. He's not big on these fermented soybeans. But I think I'm making progress! The flavor is outstanding, but I will admit, by themselves, the tempeh pieces are a little dry. I recommending serving them in a sauce or with a dipping sauce. The Husband and Sixth Grader had the audacity to dip them in ketchup – – -and like it! This would be so tasty to add to a stir-fry or instead of making small triangles, make tempeh burgers. Then maybe ketchup will be allowed. . .
INGREDIENTS:
2-8 ounce pkgs tempeh
1/2 C olive oil
Marinade:
1/4 C tamari
1/4 C shoyu
3 Tbs brown rice syrup
1 Tbs garlic, minced
1 Tbs fresh ginger root, grated/zested
Crust:
1/2 C cornmeal
1 tsp red pepper
1 tsp thyme
1 tsp oregano
1 tsp cumin
1/2 tsp salt
DIRECTIONS:
Preheat oven to 350. Cut tempeh into thirds, then slice each third lengthwise.You'll end up with 12 slices. Whisk together marinade ingredients in a small bowl, then pour over tempeh.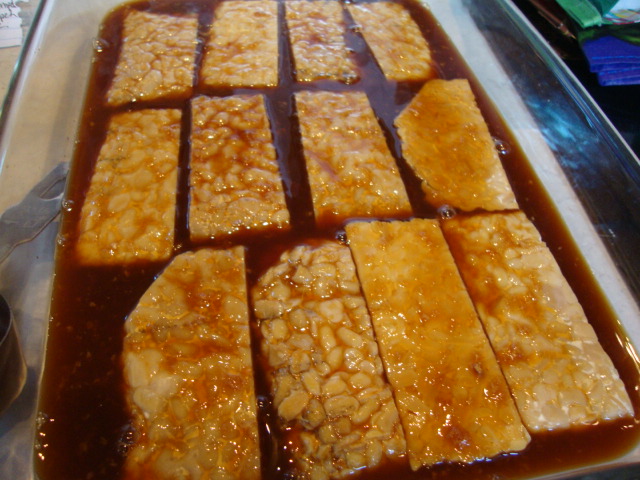 Cover and bake for 1 hour.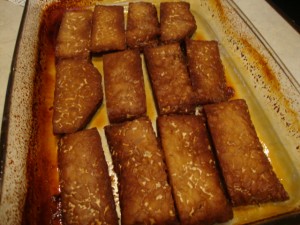 Let cool, then cut tempeh into triangles. In a shallow dish/bowl, combine the crust ingredients. Heat oil in a large skillet. Meanwhile, dredge each piece of tempeh in the cornmeal mixture and cook in the oil for a minute on each side. I served these with some toasted almond pilaf and steamed kale—delicious! Enjoy!