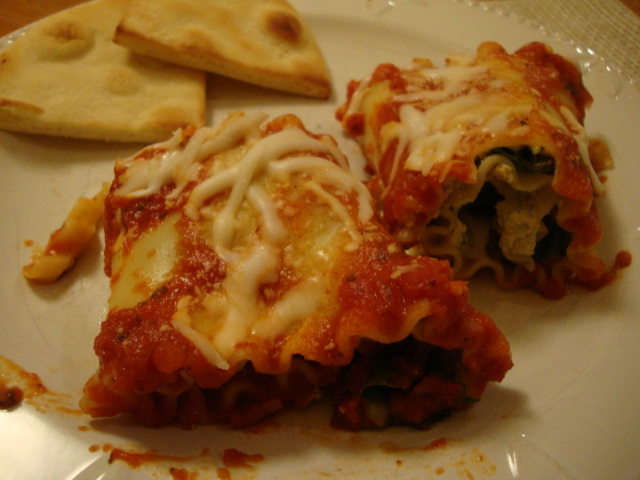 This is an easy twist on a classic. I've seen these done where you place the roll-ups on the side so the cute, frilly side of the noodle faces up, but I could just see things going wrong for me, so if you're feeling brave, by all means, go for it!
INGREDIENTS:
My go-to tofu ricotta:
1 14-oz firm (or extra firm) tofu, drained and pressed
1/3 C nutritional yeast
1 C fresh basil
1 tsp garlic powder
1 tsp salt
1/4 tsp pepper
2 Tbs lemon juice
1/2 C vegan mozzarella, shredded
The rest:
2 tsp garlic, minced
1 Tbs olive oil
18 lasagna noodles
3-1/2 C fresh spinach, chopped
2 small zucchini, sliced very thin
10 mushrooms, sliced very thin
8-0z vegan mozzarella, shredded
1 jar marinara sauce
DIRECTIONS:
Preheat oven to 350. Cook noodles for about 7-8 minutes. Make sure you don't cook them all the way—it'll be easier to use them if they're very al dente. Crumble tofu into a food processor. Add nutritional yeast, basil, garlic powder, salt, pepper, and lemon juice.  Puree well. Transfer to a bowl and stir in the 1/2 cup of vegan mozzarella.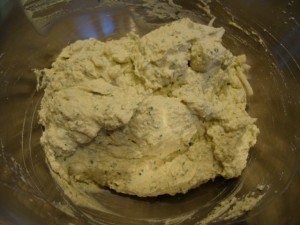 In a large skillet, heat the oil and garlic. Add the zucchini and cook 3-4 minutes. Add the mushrooms and cook just another 2-3 minutes.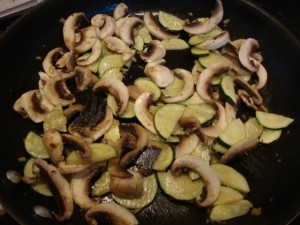 Put a thin layer of marinara on the bottom of a 15″ baking pan (I forgot to do this, but its no big deal). Use a spoon or rubber spatula to spread about 1-2 tablespoons of the ricotta mixture on a lasagna noodle. Next, layer on some spinach, zucchini mixture (only about 8-10 pieces) and a little cheese.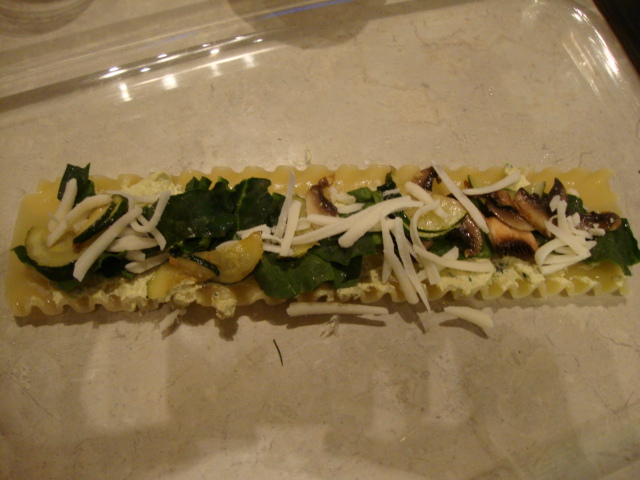 Carefully roll up noodle and place in the pan.
Once all 18 noodles (one of mine was broken, so I have 17) pour the rest of the sauce over the rolls and sprinkle the rest of the cheese on top.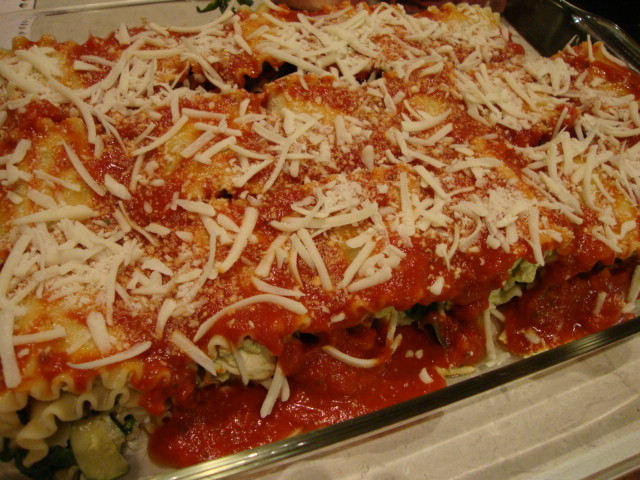 Cover with foil and bake 30 minutes. Uncover and bake another 3-5 minutes. Enjoy!