Vegan MoFo, Day 24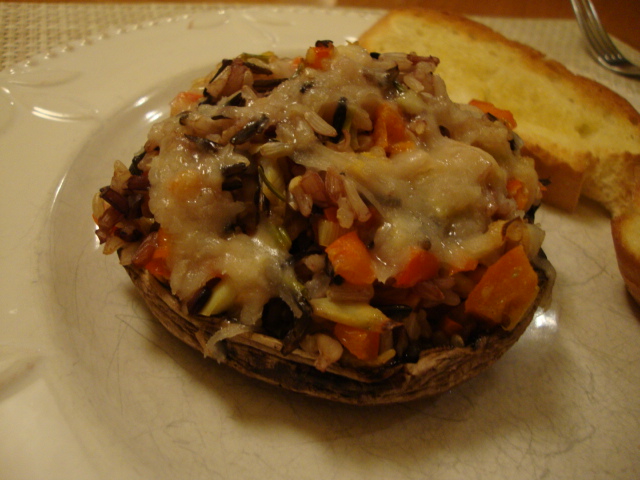 I have been dying to make these for a while now. They did not disappoint. I used about 2 cups of cooked wild rice for five mushrooms, but the recipe makes enough for six. Also, I recommend using vegetable broth when making the rice—keep in mind, the rice will take about 45 minutes to cook. Typically, I steam or slightly saute the mushroom caps before stuffing them, but this time I decided not to—and I'm glad. They came out perfect; not soggy or too soft. When looking for portobellos for this dish, try to pick out ones that are very bowl-shaped. They'll flatten a little as they bake, so the curvier, the better. (I like that, curves are good)!
INGREDIENTS:
6 portobello mushrooms, stemmed and de-gilled
2 C wild rice, cooked
1 red bell pepper, diced small
3 large green onion, diced
1/2 a can of artichoke hearts, diced small
1 Tbs Earth Balance
2 tsp garlic, minced
1 C vegan mozzarella, shredded
1 Tbs fresh rosemary, chopped
Salt and pepper, to taste
DIRECTIONS:
Preheat oven to 350 and line a baking sheet with foil; set aside. In a large skillet, heat the margarine and garlic until hot. Add bell pepper, green onions, and artichokes. Saute 3-5 minutes and add rosemary, salt and pepper.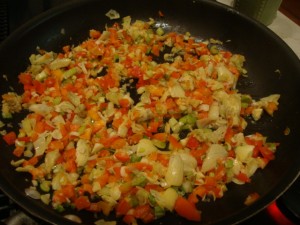 Saute another 5-7 minutes and transfer to a bowl. Add the cooked rice to the bowl and combine the two mixtures.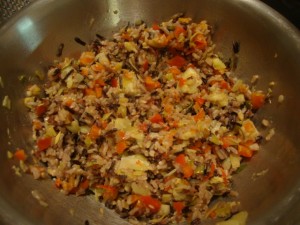 Place the portobello caps on the baking sheet—upside down. Sprinkle some vegan mozzarella inside the caps, then spoon the rice mixture into each cap evenly.You can season with some more salt and pepper, if you'd like.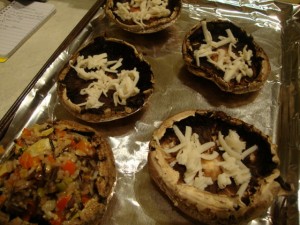 Top with remaining cheese and bake, uncovered, for 10-12 minutes. Enjoy!