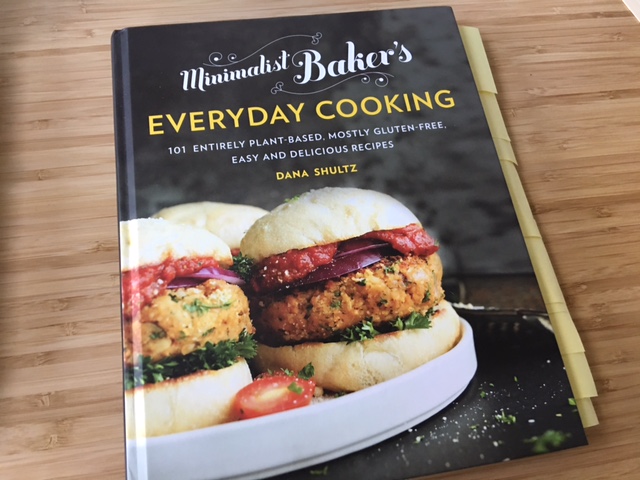 I was thrilled to have the chance to review Dana Shultz's debut cookbook, Minimalist Baker's Everyday Cooking. Like me, you probably enjoy Shultz's blog, The Minimalist Baker. (As you can see by the picture, I have lots of recipes tagged!) The beautiful, hardcover cookbook features 101 vegan (and mostly gluten-free) recipes that are simple to make. The resources page in the beginning offers some great basic recipes for DIY Almond Milk, a Vegan Parmesan, and Easy Vegan BBQ Sauce, to name a few. The cookbook is broken down into the following categories: Breakfast, Appetizers + Sides, Main Dishes, Desserts, and Beverages. You'll also find a section of Staple Pantry Items and Nutritional Information for each recipe.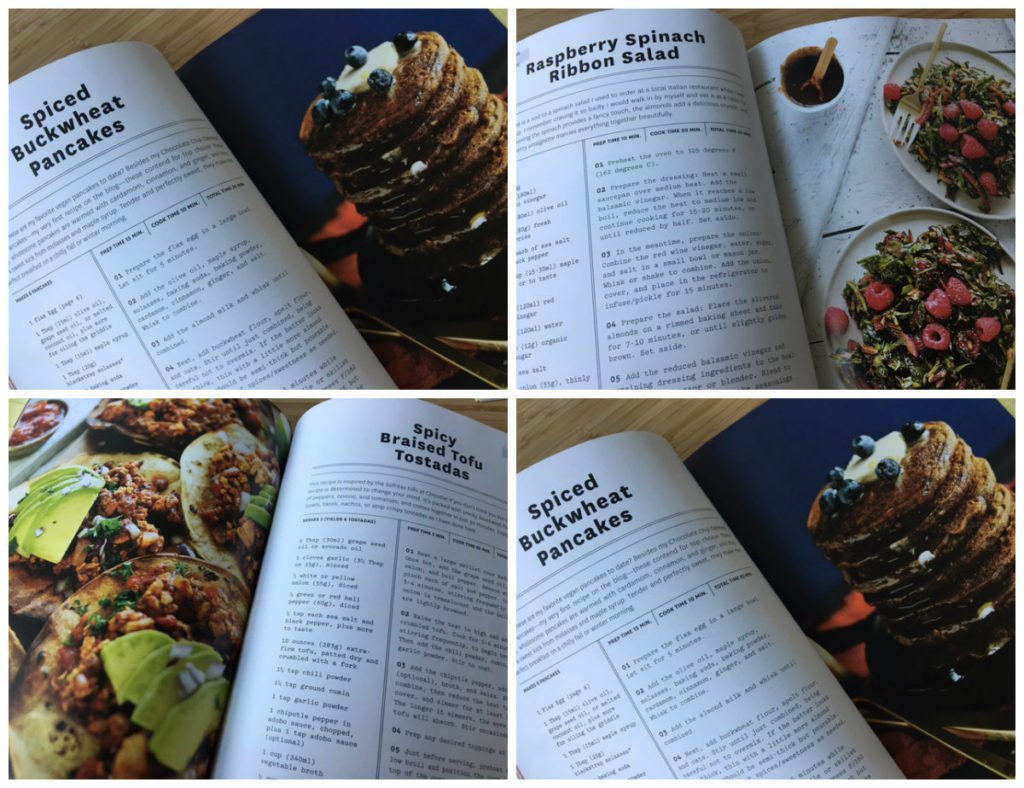 As I went through the cookbook, I kept tagging recipes—they all look and sound amazing! Pizza-Stuffed Mushrooms, "Cheddar" Beer Soup, Thai Baked Sweet Potatoes, Toasted Coconut Dark Chocolate Popcorn! Too many to list. Each recipe indicates the number of servings, prep time, cook time and total time required. It also tells readers if it's gluten-free.
Recipes can look and sound delicious, but how do they taste?
I started with the star of the cover: Pizza Burgers on page 181. Made with quinoa and chickpeas, I fell in love at first sight. However . . . have you ever met a veggie burger that would actually stay together? I had a bit of trouble with these guys. Is there anyone out there who knows of a plant-based, organic, all-natural, edible vegan glue?! I was really wishing for a product like that while I tried making these. Shultz does warn readers that these burgers can be fragile. Boy, was she right. Every time I turned around those darn things would calve like a iceberg. I followed Shultz's advice by adding a bit more oil. I even added more pizza sauce, but they just refused to stay together. I even transferred them from the skillet to a baking sheet because I knew trying to flip them in the skillet would result in tears and profanity.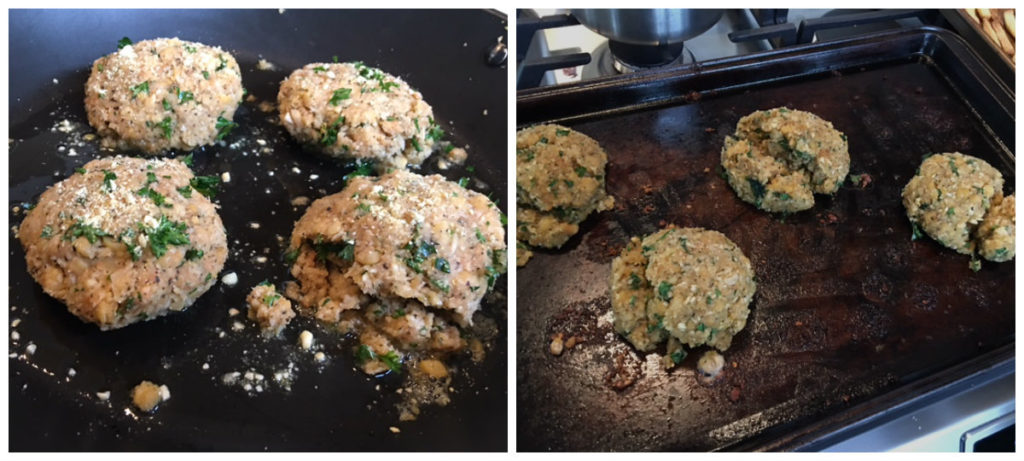 I really try to not cry in the kitchen though. Instead, I opted for more of a Sloppy Joe. I ended up adding more pizza sauce and served them up with buns and the recommended red onions and cilantro.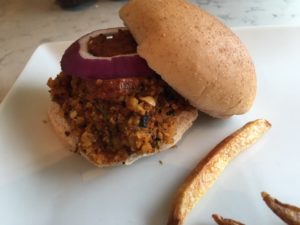 It actually turned out pretty well. I think I would have liked it without the bun though—just by itself it's delicious, but certainly not meant for Sloppy Joe-style. I hate to say it though…I probably wouldn't try making them again because I have no idea what else I could have done to make them stay together. I knew, however, that there would be plenty of other fabulous recipes to try.
Such as the Spinach + Artichoke Dip on page 71. I won't keep you in suspense. It was absolutely delicious. I'd make this again and again.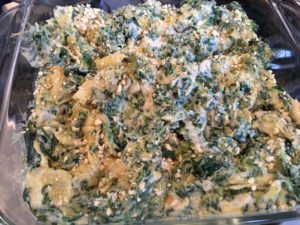 (Shultz's picture is much better.) Made with cashews, almond milk, and vegan cream cheese, this dip is creamy, rich, and flavorful. Topped with the Vegan Parmesan, it's outstanding. I used a glass dish because I haven't gotten around to seasoning my new cast iron skillet, so I'm sure it's even better in the skillet—and easy! One pan and that's it. Great with pita chips and veggies.
I have several more recipes I plan on trying out. The book features a variety of recipes from Mexican to Asian to Thai to Indian and plenty in between. I also like that the recipes are simple and they don't require strange, hard-to-find ingredients. Overall, a winner.
Minimalist Baker's Everyday Cooking released just yesterday and retails on Amazon for $22.65.
Disclosure: Although the cookbook was provided to me for free to review, that in no way influenced my opinion.