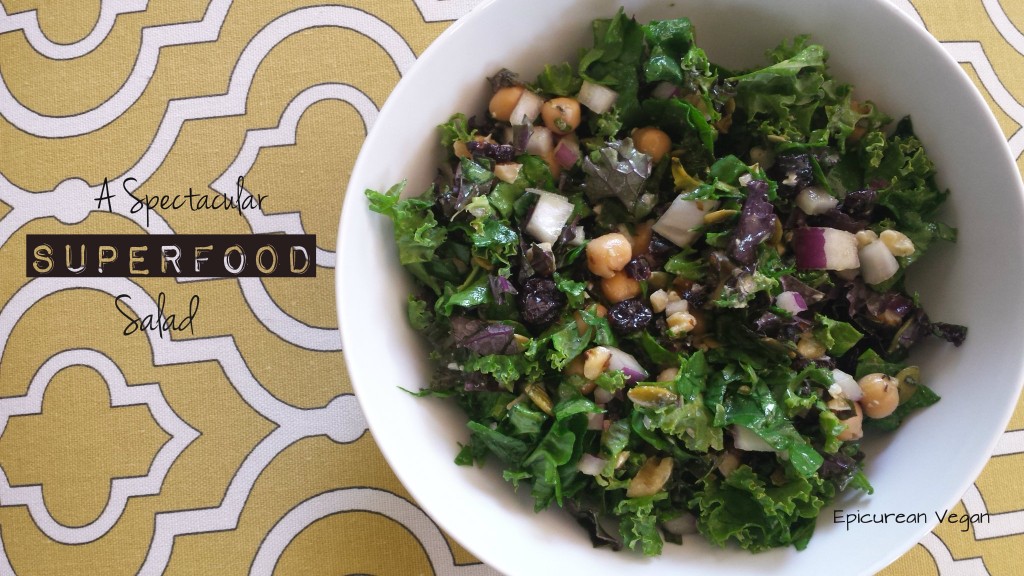 So what's a superfood, you might ask? Well, according to the online dictionary, it's "a nutrient-rich food considered to be especially beneficial for health and well-being." That sounds about right. Chances are, your fridge and pantry are stocked with these very ingredients and a salad is a great way to make the most of them—all in one bite. You won't find meat and dairy labeled as superfoods. Ever. (Okay, some people consider salmon a superfood, but it's really the omegas they're after, which are readily found in plant foods). I made a very light dressing to coat the salad, also packed with immune-boosting deliciousness, so dig in and feel super energized, super healthy, and super happy with this spectacular superfood salad!
The super benefits:
Kale: high in fiber, iron, Vitamin K, C, and A; an anti-inflammatory food, supports cardiovascular health and is full of antioxidants.
Spinach: high in Vitamin A, K, D and E; good source of omega-3 fatty acids, loaded with antioxidants (fights cancer & inflammation), rich in calcium and magnesium, as well as carotenoids for eye health.
Pepitas (pumpkin seeds): high in magnesium, zinc, omega-3 fatty acids, antioxidants, fiber and anti-inflammatory properties. They're also high in tryptophan—you know, the "sleep hormone" found in turkey? Sprinkle some pepitas on your next Thanksgiving dish and enjoy the same post-meal nap without the dead bird.
Walnuts: cancer-fighting properties, heart health benefits, extremely high in antioxidants, as well as Vitamin E, folate, melatonin and omega-3 fatty acids.
Red onion: high in quercetin, a bioflavonoid with antioxidants, anti-inflammatory, cancer-fighting, anti-fungal and anti-bacterial properties.
Blueberries: said to help with memory decline, reduce heart attack risk, and are full of antioxidants. Also high in Vitamin K, manganese and fiber.
Chia seeds: high in protein, fiber, phosphorus, manganese, calcium and potassium. They also contain healthy antioxidants and are a good source of omega-3 fatty acids.
Garbanzo beans (chickpeas): high in fiber, protein, manganese, and iron. They can also stabilize blood sugar and help lower one's cholesterol.

A Spectacular Superfood Salad
Ingredients
2 heads of kale, stems removed and discarded, leaves chopped small
3 C spinach, chopped small
2 C fresh or dried blueberries
1 C red onion, diced small
1 15-oz can garbanzo beans, drained and rinsed
½ C pepitas
1 C walnuts, chopped
.
Dressing
.
1 clove garlic, minced
1 Tbs yellow miso
1 Tbs tahini
1 Tbs nutritional yeast
1 T lemon juice
½ tsp chia seeds
¼ C water
Directions
Toss all of the salad ingredients together in a large bowl.
In a small bowl, whisk together the dressing ingredients. Let the dressing sit about 10 minutes to allow the chia seeds to thicken the dressing just a bit.
Add the dressing to the salad and toss to coat thoroughly. Enjoy!