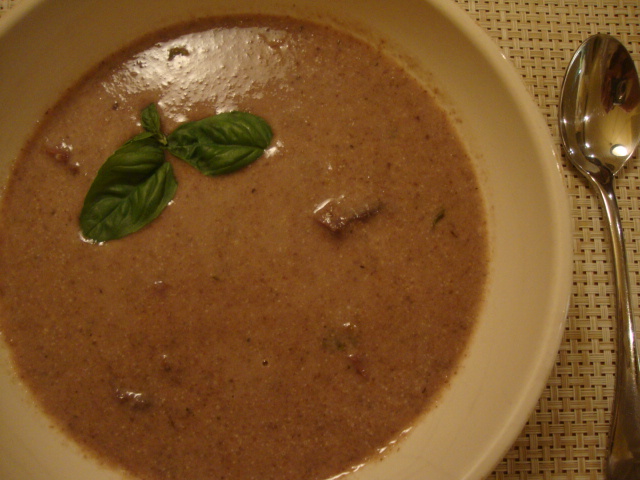 I had a feeling I was going to like this mauve-colored soup because it not only has mushrooms, but wine as well. Yep, I love it. This comes from a cookbook that I've recently rediscovered—I've had it for years. Beyond the Moon Cookbook is all vegetarian, so I had to veganize the soup, which was no problem. Served with some rustic bread, this soup was ideal for a chilly fall evening.
INGREDIENTS:
2 C dry red wine
1-1/2 lbs mushrooms, quartered (about 6 cups)
1 Tbs Earth Balance margarine
1-1/2 C onions, chopped
10 large garlic cloves, minced
1/2 tsp dried thyme
1-1/2 C fresh bread crumbs (I used an olive loaf and chopped up about 1/2 of it)
1 C Tofutti sour cream
2-1/2 C almond milk
2 Tbs tamari
1 tsp salt
2 Tbs fresh basil, chopped
Dash of black pepper
DIRECTIONS:
In a large soup pot, heat 1-1/2 cups of the wine and add the mushrooms .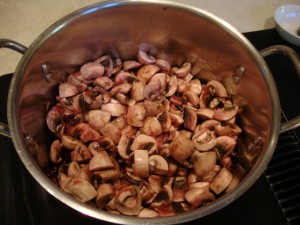 Simmer, partially covered, until the mushrooms have absorbed all wine, about 20-25 minutes. Meanwhile, melt the butter in a skillet and add the onions, garlic, and thyme until the onions are soft, about 5 minutes.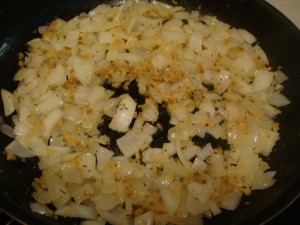 Puree the onions in a food processor.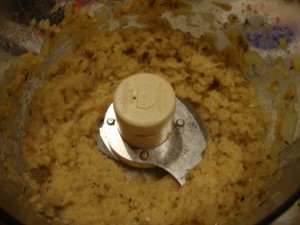 Add the bread crumbs, sour cream, and three-quarters of the cooked mushrooms.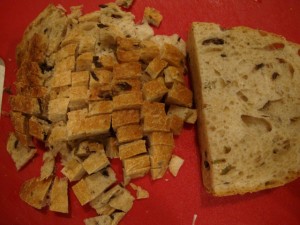 (fresh bread crumbs)
Process until smooth.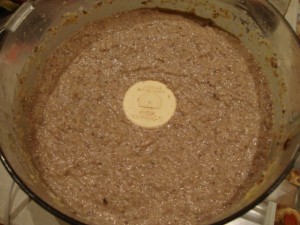 Stir the puree into the soup pot with the left over mushrooms. Whisk in the milk, tamari, salt, basil, pepper, remaining 1/2 cup red wine, and 2-1/2 cups of water. Heat until warmed through, stirring often. Ladle into soup bowls and enjoy!