Today kicks off my Vegan MoFo quest to blog everyday in November about all things vegan. We got an early start to the festivities last night with an all-vegan Halloween party with family and friends. When it comes to entertaining, our guests never go hungry or thirsty for it's an opportunity for me to stuff them with vegan goodness. Last night was no exception.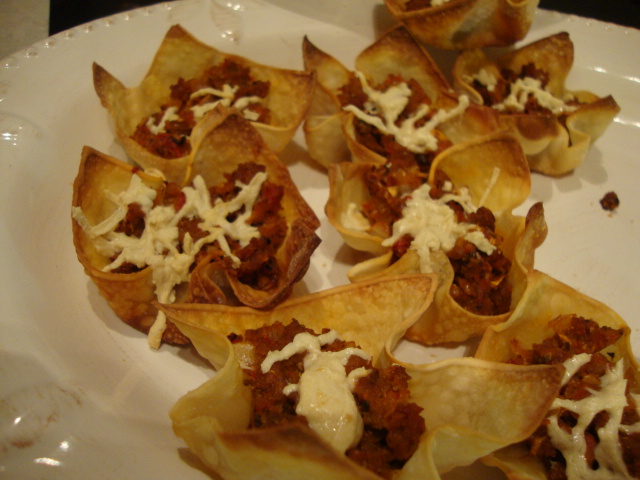 INGREDIENTS:
30 wonton wrappers, Twin Marquis brand (egg-free)
2 Field Roast sausages, Chipotle flavor,
1 small onion, chopped
5 large mushrooms, quartered
3 jarred roasted red peppers, chopped
Vegan mozzarella, shredded
DIRECTIONS:
You can make this recipe earlier in the day to make things easier–which was a lifesaver! To make the wonton cups: Preheat broiler to high. Lightly grease a  muffin pan. I made medium-sized ones, but these work really well with the mini-muffin pan. Place a wonton wrapper in each muffin cup: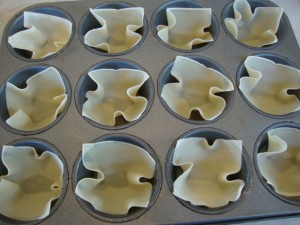 Spray the cups with a little bit of cooking spray and put under the broiler for about 3-5 minutes, or until they begin to brown.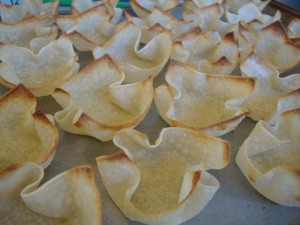 Meanwhile, break up the sausage into large chunks and throw into the food processor. Add the onions and chop up until pretty fine. Transfer the sausage mixture to a skillet, then add the mushrooms and roasted red pepper to the food process and process until fine, then mix in with the sausage mixture.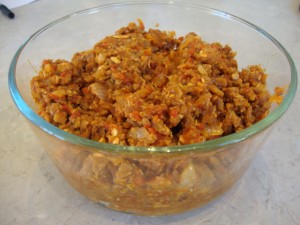 Preheat oven to 375. Heat mixture in the skillet thoroughly, then fill the cups evenly with the mixture and sprinkle on some vegan mozzarella. Cover with foil and bake about 15 minutes. If making ahead, refrigerate the sausage mixture and cover the wonton cups until ready to use.
Mexi-Roll-Ups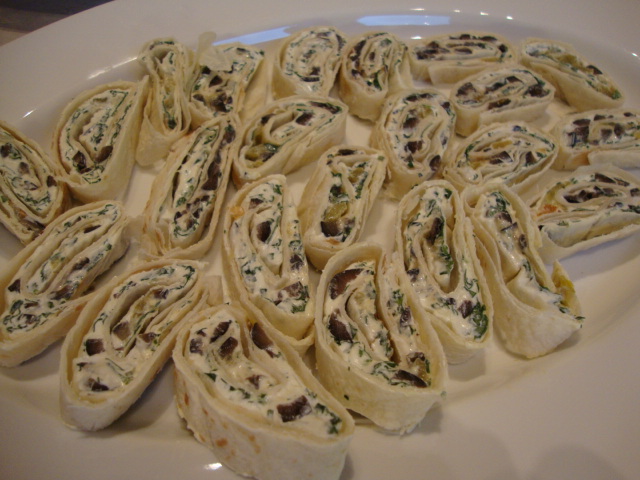 INGREDIENTS:
4 flour tortillas
8 oz Tofutti cream cheese
1 C fresh cilantro, chopped
(2) 2-1/4 oz black olives, diced
4 oz can mild green chilies
4 large green onions, sliced thin
DIRECTIONS:
In a medium bowl, combine cream cheese and cilantro and spread 1/4 of the mixture onto 1 tortilla. Layer on some olives, green onions, and green chilies.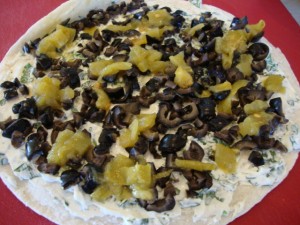 Roll up and if not using right away, wrap in plastic wrap and refrigerate. Otherwise, slice the roll and lay on a platter.
The Look
That's right. Pedro and Napoleon. The Husband could also pass for a very tan Burt Reynolds or a Hispanic Ken doll. After making him dress as Marilyn Monroe a few years back for Halloween, I owed him, so it was my turn to cross-dress.
The Sixth Grader and I went a little nuts with the fake cobwebs:
By the end of the night, Pedro was ready to pass out . . .
Hope everyone had a great Halloween and Happy World Vegan Day!