Truffle Gnocchi and Roasted Veggies withLemon-Butter Sauce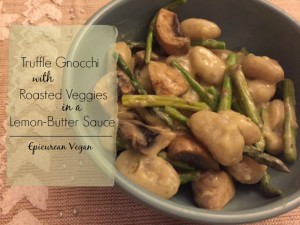 16-oz pkg. truffle & porchini mushroom gnocchi (like this one from World Market)
1 small bundle asparagus, ends trimmed and stalks cut into thirds
8-10 large mushrooms, quartered
Olive oil
Salt and pepper
Lemon-Butter Sauce
3 Tbs vegan margarine
1 large garlic clove, minced
4 Tbs flour
⅛ C white wine
¼ C lemon juice
½ C water
1 Tbs nutritional yeast
Zest from one lemon
½ tsp salt
Preheat oven to 400.
In a medium bowl, combine the asparagus and mushrooms and drizzle with a little olive oil---just enough to coat---and season with salt and pepper.
Transfer to a large baking sheet. These will only take about 10-12 minutes to roast, so get the water boiling for your gnocchi which only needs about 5 minutes. The sauce will only take about that much time, so start the sauce once you toss the gnocchi in.
To make the sauce, melt the vegan margarine and add the garlic. Whisk in the flour. It will thicken up quickly. Whisk in the white wine; it will thicken even more and then add the lemon juice. Let it thicken , then slowly add a bit of water to thin it out. You may or may not need the full ½ cup of water, so add as much as you think you need to get a sauce that isn't too thick. (Sorry to be vague!) Finally, whisk in the nutritional yeast and salt.
Once the gnocchi is drained, add it to the roasted veggies.
Add the sauce and coat thoroughly. Enjoy! Seriously. Enjoy.
Recipe by
Epicurean Vegan
at http://epicureanvegan.com/2015/12/14/truffle-gnocchi-with-roasted-veggies-and-lemon-butter-sauce/