Baked Hummus & Spinach Dip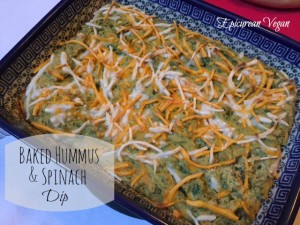 Hummus
2 15-oz cans garbanzo beans, drained and rinsed
3-4 cloves of garlic
⅔ C tahini
⅓ C lemon juice
½ C water
¼ C olive oil
½ tsp salt
¾ tsp cumin
¼ to ½ tsp cayenne
1 C parsley
The rest
4 C chopped spinach
1 7-oz can diced green chilies, drained
½ C vegan mozzarella shreds
½ C vegan cheddar shreds
Pita chips, veggies, crackers
Preheat oven to 375.
Start with making the hummus. Combine all of the hummus in a food processor and blend for several minutes until completely smooth. Transfer to a large bowl.
Combine the two cheeses and set aside.
I then washed out the processor bowl and tossed the spinach in. I used almost a full bunch of spinach leaves and chopped it up in the food processor and ended up with about 4 cups.
Add it to the bowl with the hummus along with ½ cup of the cheese mixture, and the green chilies.
Combine well and transfer to a shallow baking dish. (Really, anything larger than an 8x8" baking dish is great.) Top with remaining cheese.
Bake for 25 minutes. Enjoy with pita chips, veggies, and crackers!
Recipe by
Epicurean Vegan
at http://epicureanvegan.com/2015/12/27/b/