Broccoli-Cashew Cheese Soup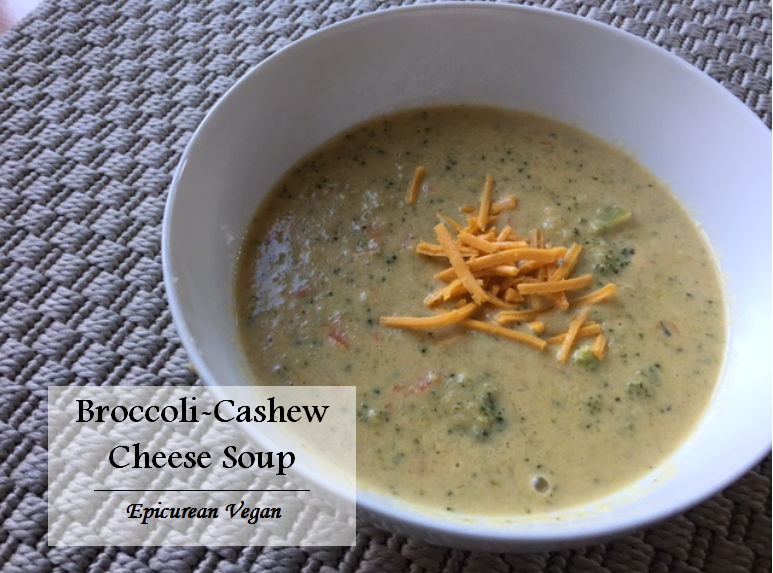 5 C vegetable broth, divided
1 head of cauliflower florets, cut into small pieces
2 small heads of broccoli florets, cut into small pieces
3 large carrots, thinly sliced
1 tsp garlic powder
1 tsp onion powder
½ tsp thyme
1 tsp salt
¼-1/2 tsp black pepper
⅓ C white wine
½ C nutritional yeast
1 C canned lite coconut milk
1 C raw cashews, unsalted
1 garlic clove
1 tsp apple cider vinegar
½ tsp salt
¼ C to ½ C water
1 tsp lemon juice
Soak the cashews in hot water for 30-60 minutes. In a large soup pot, combine 2-1/2 C vegetable broth with the cauliflower. Bring to a boil, then lower and simmer for 15 minutes, or until the cauliflower is tender.
Turn off the heat and puree using an immersion blender. Once pureed, add the rest of vegetable broth, broccoli, carrots, garlic powder, onion powder, thyme, salt, and pepper. Return to a simmer and let cook for 10-15 minutes, or until the broccoli and carrots are tender.
Meanwhile, drain and rinse the cashews and transfer to a food processor with the clove of garlic. Add the vinegar, lemon juice, salt, and water. Puree, scraping the sides of the bowl a few times, until you have a thick and creamy consistency. This may take about 3-4 minutes. Set aside.
I then used the immersion blender to puree the soup a little more---not too much; I wanted to still have chunks of broccoli and carrot. This step is certainly optional. Next, whisk in the white wine, coconut milk, cashew cheese, and nutritional yeast; blend well. Heat on medium-low until hot.
Serve with some crusty bread and maybe some vegan cheddar shreds, croutons, and green onion. So delicious! Enjoy!
Recipe by
Epicurean Vegan
at http://epicureanvegan.com/2016/03/31/broccoli-cashew-cheese-soup/