Vegan Meatball Sliders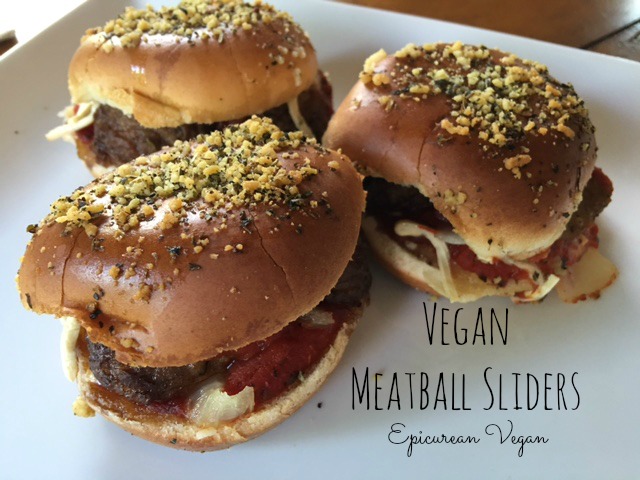 12 slider buns
1 small onion, cut into small strips
1 Tbs + 1 tsp olive oil, divided
1 pkg. Gardein Meatless Meatballs (12), thawed completely
2 to 2-1/2 C marinara sauce
1 to 1-1/2 C vegan shredded Mozzarella
3 Tbs Vegan Parmesan (this one from Follow Your Heart is amazing)!
1 Tbs Italian Seasoning
Preheat oven to 375. In a small skillet, heat 1 tsp of the olive oil and saute the onions 5 minutes, or until they are just softened.
Place the bottoms of the 12 slider buns in a 9x13 pan. Spoon on some marinara sauce and add the onions.
Sprinkle with a little cheese. Then cut each meatball in half and place flat-side down on the onions.
Spoon on the rest of the sauce and sprinkle with remaining cheese.
Add the top buns and brush with remaining oil. In a small bowl, combine the vegan Parmesan with the Italian seasoning then sprinkle onto the top buns.
Cover and bake for 20 minutes. Remove the foil then bake another 5 minutes to brown the tops. Enjoy!