Vegan Buffalo Chicken Wraps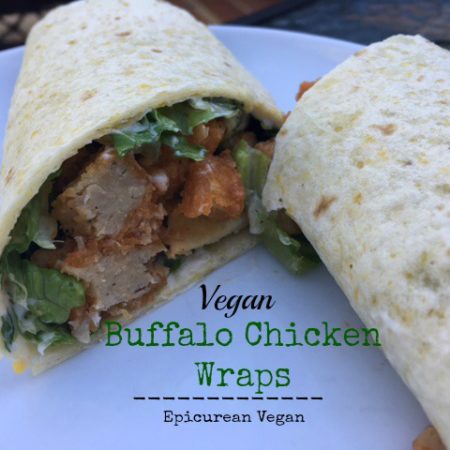 3 bags Boca Chik'n Veggie Nuggets
3-4 C romaine, chopped
12-oz jarred buffalo sauce of your choice (check ingredients to ensure vegan-ness)
Vegan bleu cheese or ranch dressing (Follow Your Heart is a great brand!)
1 avocado, peeled, pitted, and sliced thin (optional)
6 flour tortilla wraps
Bake the nuggets according to package instructions, then cut each nugget into 6 pieces.
In a large bowl, combine the nuggets and buffalo sauce. It may seem like a lot of sauce, but don't be afraid; pour it on!
To assemble, spread some dressing on a tortilla, a few slices of avocado (if using), some romaine, then top with nuggets. Wrap, eat, and enjoy!
Recipe by
Epicurean Vegan
at http://epicureanvegan.com/2016/09/11/vegan-buffalo-chicken-wraps/