Lentil-Garbanzo Bean Salad with Creamy Garlic-Balsamic Dressing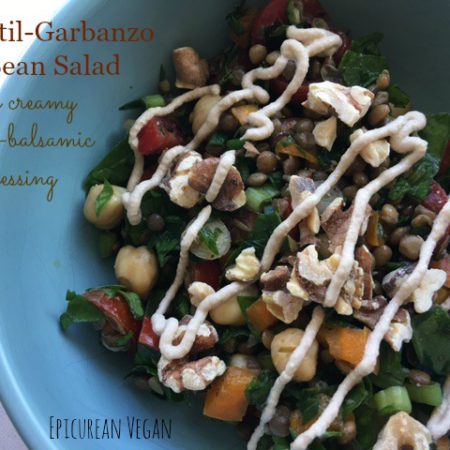 1 pkg (1lb) Trader Joe's Ready-to-Eat steamed lentils
1 15-oz can garbanzo beans, drained and rinsed
2 C fresh spinach, chopped
1 C fresh parsley, chopped
1 C green onions, sliced (white and green parts)
1 orange bell pepper, diced
1-1/2 C quartered cherry tomatoes
1 C roasted walnuts
Garlic-Balsamic Dressing
1 C cashews
2 garlic cloves
¾ C cold water
2 Tbs balsamic vinegar
1 Tbs grapeseed oil
1 tsp lemon juice
1 tsp salt
To make the dressing, I soaked the cashews in hot water for about an hour. Drain and add to a food processor along with the garlic and water. Puree, then add the balsamic vinegar, oil, lemon juice, and salt. Blend until completely smooth; set aside.
In a large bowl, combine all of the salad ingredients, except the walnuts.
Serve the salad topped with walnuts and dressing. Enjoy!
Recipe by
Epicurean Vegan
at http://epicureanvegan.com/2016/09/19/lentil-garbanzo-bean-salad-creamy-garlic-balsamic-dressing/