Fennel-Infused Beluga Lentils with Pepita-Tahini Dressing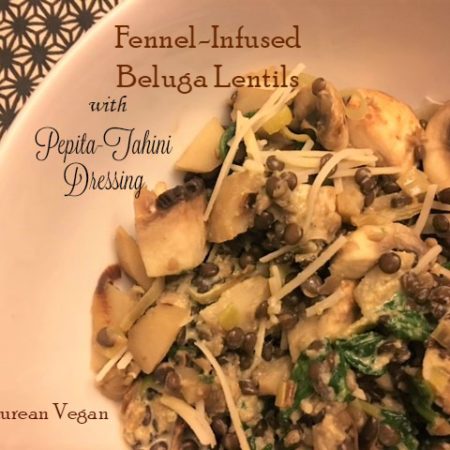 1 C black (beluga) lentils
1 Tbs fennel seed
1 Tbs olive oil
3 garlic cloves, minced
2 medium leeks, chopped
1 8-oz can water chestnuts, chopped
4 C fresh spinach, chopped (salad size)
2-3 C white or cremini mushrooms, each cut into 4-6 pieces
Salt and pepper, to taste
Pepitas
Vegan Parmesan (optional)
Pepita-Tahini Dressing
⅓ C pepitas
½ C water (more if you'd like to thin the dressing)
2 Tbs tahini
2-1/2 Tbs grapeseed oil
1 Tbs apple cider vinegar
1 Tbs soy sauce or tamari
1 Tbs lime juice
¼ C fresh cilantro leaves
1 tsp agave
¾ tsp cumin
½ tsp salt
¼ tsp black pepper
(For a little kick, add some chili powder)
As mentioned above, pre-soak the lentils with the fennel seeds. When ready to cook, combine 3 cups of water or vegetable broth with the lentils and bring to a boil. Reduce the heat to low, cover, and let simmer for about 30 minutes. Check for doneness. I like lentils to be tender, but still retain some firmness. Meanwhile, in a large skillet, heat the olive oil over medium heat and add the garlic. Saute for 2 minutes, then add the leeks; cook for 3-5 minutes, or until they begin to soften. Add the water chestnuts and cook another 5-7 minutes.
Next, add the mushrooms and spinach and saute over medium-low heat until the spinach begins to wilt. I tend to prefer not overcooking mushrooms--usually just enough to soften them a little. Once the lentils are drained, add them to the skillet and combine everything thoroughly.
To make the dressing, toss everything in a food processor or blender and blend until smooth.
To serve, top individual servings with some pepitas, dressing and vegan Parmesan. Enjoy!
Recipe by
Epicurean Vegan
at http://epicureanvegan.com/2016/12/19/fennel-infused-beluga-lentils-pepita-tahini-dressing/