Vegan Mincemeat Pockets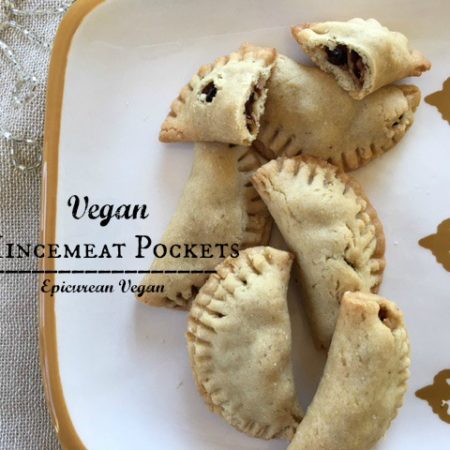 2 apples (any variety; I like Honeycrisp), finely chopped
½ C golden raisins
½ C dried currants
½ C coconut flakes, chopped fine
½ C almonds, chopped
¾ tsp cinnamon
¼ tsp nutmeg
¼ C brown sugar
½ tsp ginger
¾ tsp ground cloves
zest from one lemon
zest from one orange
¾ C liquid coconut oil
¼ C white wine (Optional. You can also use a port, gin, or brandy)
Pocket dough
3 C flour
¾ C granulated sugar
¼ C brown sugar
¾ C vegan margarine
3 tsp egg-replacer powder
4 Tbs water
1 tsp baking soda
¼ C milk
1 tsp vanilla
¼ tsp salt
The night before: In a large bowl, combine all of the mincemeat ingredients except the white wine. Cover and refrigerate.
To make the dough, whisk the egg-replacer with the water and set aside. Using a mixer, blend together the margarine and sugars, then add the egg-replacer, vanilla, and milk. In a medium bowl, combine the flour, baking soda, and salt. Slowly add the dry mixture to the wet ingredients. If it's too dry, add a little more milk. Shape the dough into a ball, cover, and chill overnight.
The next day, place the mincemeat in a large skillet and add the white wine (if using). Cook over medium-low heat for about 20 minutes. Any liquid will cook off and the sugars will caramelize. Set aside.
To make the pockets, preheat the oven to 375. Line a baking sheet with parchment paper. Work with a quarter of the dough at a time; refrigerate the remaining. It's best to work in small batches so that the dough doesn't get too dried out. Roll the quarter of dough into a ball, and on a lightly floured surface, roll the dough out. The trick is to roll the dough as thin as possible. A thick dough will be difficult to fold over and plus, you don't want more dough than mincemeat. Use a 2-3/4" to 3" cookie cutter (I used a cleaned soup can) to cut out circles. Place the cutouts onto the baking sheet. Place about a ¾ to 1 teaspoon of the mincemeat down the center of the pocket. Gently fold over and crimp the edges with a fork.
Bake for 12 minutes, or until golden brown. Transfer to a cooling rack.
Repeat with remaining dough. Enjoy!