Cauliflower Fried Rice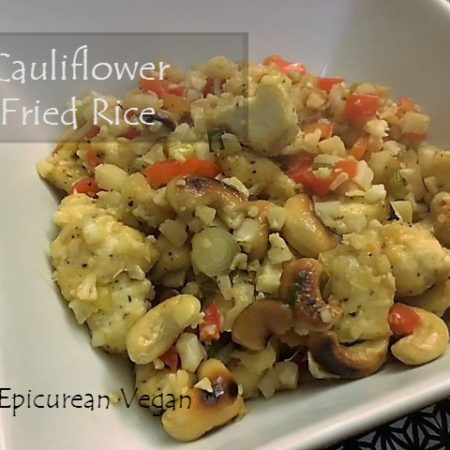 4 C of cauliflower rice (that's half of the Costco-sized bag)
1 14-oz pkg firm tofu, crumbled
4 Tbs cornstarch
Salt and pepper, to taste
2 Tbs sesame oil
¼ C brown rice vinegar
½ C green onion, sliced
1 red bell pepper, diced small
1 Tbs + 1 tsp olive oil, divided
3 garlic cloves, minced
2 Tbs grated gingerroot
4 Tbs tamari or soy sauce
2 Tbs mirin
1 C toasted cashews
In a medium bowl, combine the crumbled tofu in a bowl with the cornstarch and salt and pepper; toss gently to coat. Heat one teaspoon of the olive oil in a large skillet and add the tofu; saute over medium heat, stirring and flipping the tofu until browned.
Transfer to a bowl and set aside. Wipe the skillet clean and heat the remaining olive oil. Add the garlic and ginger and saute over medium heat for 2 minutes, then add the bell pepper. Cook until softened, then add the cauliflower. Cook for another 2-3 minutes, then stir in the vinegar and let cook another 5 minutes, stirring often.
Add the tofu, green onion, and cashews; combine well, then stir in the tamari and mirin.
Serve hot and enjoy!