Spinach Ravioli with Lemon-Cashew Cream and Butter-Garlic Sauce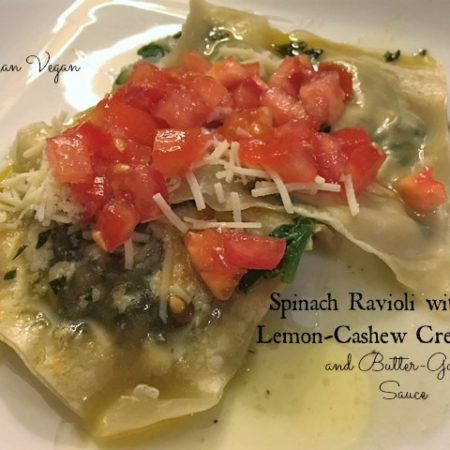 1 Tbs olive oil
3 garlic cloves, minced
2 medium leeks, sliced and diced small
3 C cremini mushrooms, diced small
2 bunches of fresh spinach, chopped
Salt and pepper, to taste
60 eggless wonton wrappers
Lemon-Cashew Cream
1 C cashews
1 garlic clove
1 tsp apple cider vinegar
¾ tsp salt
¼ C water
¼ C lemon juice
Butter-Garlic Sauce
6 garlic cloves, minced
1 C vegetable broth
1 lb vegan margarine
½ C fresh parsley, minced
The rest
2 tomatoes, diced
Vegan Parmesan
Toasted pinenuts, toasted (optional)
In a large skillet, heat the olive oil and add the garlic; cook for 1 minute, then add the leeks. Cook until softened and start to brown. Add the mushrooms and cook another 2-3 minutes.
Fold in the spinach and cook just another 1-2 minutes, or until the spinach begins to wilt. Remove from heat and let cool a little. To make the cashew cream, I usually soak the nuts in hot water for 2-3 hours beforehand. Drain them, then add them to the food processor with the rest of the Lemon-Cashew Cream ingredients. Blend for several minutes until smooth. I then transferred the sauce to a squeeze bottle.
To assemble the raviolis, have a small dish of water nearby and place a wonton wrapper on a cutting board. Squeeze or dollop some cashew cream on top, then add 2 to 2-1/2 tablespoons of the spinach mixture on top in the center, being sure to leave plenty of edge space. Next, dip your finger in water and run it along each edge of the wonton. Place another wonton wrapper on top, sealing each edge one at a time. Gently press the edges to ensure a tight seal.
Place onto a baking sheet.
Repeat the process until your have use all of the filling (about 30 raviolis). Place uncovered in the freezer. If you don't plan to cook these within 6 hours, place the frozen raviolis in a Ziploc bag.
Come mealtime, the process goes pretty quick, so start by making the Butter-Garlic Sauce. In a medium saucepan, bring the garlic and vegetable broth to a boil. Reduce heat and let it simmer for 5 minutes. Add the margarine a bit at a time and whisk it in before adding more. Keep the sauce warm while you prepare the rest of the meal.
Bring a large pot of water to a boil and preheat the broiler to high. Lower the heat on the water to and add 4-5 raviolis at a time to the pot. Let cook for 1 minute, then use a slotted spoon or spatula to transfer to a large baking sheet. Once the baking sheet is full (try not to let the raviolis touch), place until the broiler for about a minute, or until they begin to brown.
Stir the parsley into the garlic sauce. To serve, place 1-3 raviolis on a plate, stop with garlic sauce, vegan Parmesan, tomato, and if using, toasted pinenuts. Enjoy!
Recipe by
Epicurean Vegan
at http://epicureanvegan.com/2017/01/26/spinach-ravioli-lemon-cashew-cream-butter-garlic-sauce/