Potato Curry with Spinach & Tomato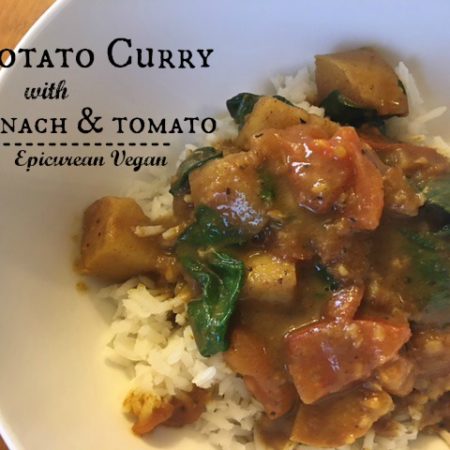 3 cloves of garlic, minced
1 Tbs olive oil
3 russet potatoes, nuked, skinned, and cut into cubes
1 can coconut milk
1 C vegetable broth
3 Tbs garam masala
3 Tbs yellow curry
1 tsp turmeric
¾ tsp salt
3-4 C fresh baby spinach
3 tomatoes, diced
6 C cooked rice
1-2 avocados, peeled, pitted and diced
In a large skillet, heat the garlic over medium heat in the olive oil. Add the cooked and diced potatoes; saute for 10-15 minutes or until browned. (Be sure to make the rice during this time, too.)
Add the garam masala, curry, and turmeric and coat the potatoes well.
In a large measuring cup, whisk together the coconut milk and vegetable broth. Over medium-low heat, add it to the potatoes. Bring it to low simmer and season with salt. Add the tomatoes and spinach. (If using, add the garbanzo beans.)
Fold in and let cook over medium-low heat until the spinach is wilted.
Serve the rice in individual servings topped with the potato mixture (and avocado, if using)! Enjoy!
Recipe by
Epicurean Vegan
at http://epicureanvegan.com/2017/02/06/potato-curry-spinach-tomato/