Sweet Potato Nachos with Cilantro-Lime Sour Cream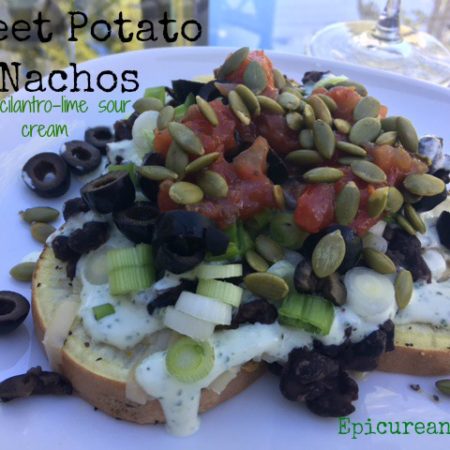 2 large sweet potatoes or yams, cut into ½" slices
Olive oil
Garlic salt
Black pepper
5 to 6-oz of a Daiya Jalapeno Havarti Style Block, shredded
1-1/4 C vegan sour cream
1 C fresh cilantro leaves
1 Tbs lime juice
¼ tsp salt
Toppings
2 15-oz cans black beans, drained and rinsed
Green onion
Black olives
Salsa
Pepitas
Preheat oven to 450.
Line a baking sheet with foil and place the sweet potato slices on the sheet. Brush with olive oil and sprinkle with garlic salt and black pepper. Bake for 25-30 minutes, or until tender and browned.
Sprinkle with the vegan cheese and bake another 2-3 minutes, or until the cheese in melted.
In the meantime, over low heat, the warm the black beans in a saucepan.
Combine the sour cream, cilantro, lime juice, and salt in a food processor and blend well. Transfer to a squeeze bottle or bowl.
Once the cheese is melted on the sweet potatoes, immediately top 3-4 on individual plates with black beans, sauce, and other toppings. Enjoy!
Recipe by
Epicurean Vegan
at http://epicureanvegan.com/2017/05/25/sweet-potato-nachos-cilantro-lime-sour-cream/