Glass Noodles & Carrots with Peanut-Sesame Sauce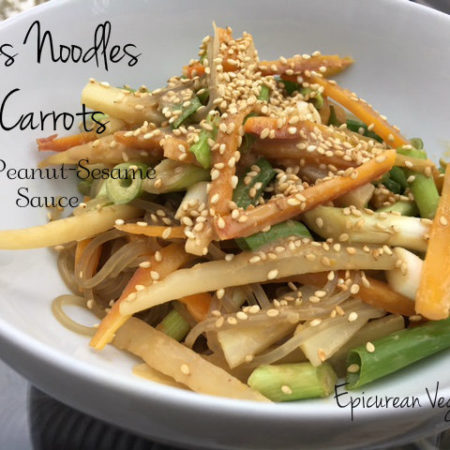 3.5-oz pkg. Sweet Potato Glass Noodles
6-8 small carrots, sliced thin (about 2 cups)
1 bunch of green onion, sliced thick (these have a kick and we love green onion; feel free to use less)
Sesame seeds
Peanut-Sesame Sauce
1-1/2 Tbs creamy peanut butter
4 Tbs soy sauce
2 tsp toasted sesame oil
2 tsp rice vinegar
2 Tbs mirin
½ tsp lime juice
½ tsp brown sugar
1 garlic clove, minced
1 Tbs grated ginger root
Steam the carrots until softened, about 12-15 minutes.
Meanwhile, cook the glass noodles in boiling water for 6 minutes. Drain, rinse with cold water and return to the pan with a tiny bit of sesame oil.
Whisk together all of the sauce ingredients.
Combine the carrots, noodles, green onion, and sauce in a pan or bowl. Serve with sesame seeds on top. Enjoy!
Recipe by
Epicurean Vegan
at http://epicureanvegan.com/2017/07/30/glass-noodles-carrots-with-peanut-sesame-sauce/