Vegan Twice-Baked Potatoes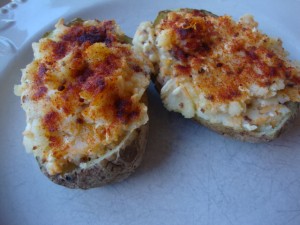 1 russet potato
¼ C vegan sour cream
1 Tbs vegan margarine
⅛ to ¼ C vegan cheddar shreds
Dash or two of garlic salt
Dash (or several) of veggie bacon bits
Paprika
I think some chopped chives or green onions would be great, too.
Preheat oven to 375. Cook the tater in the microwave. (Be sure to fork it several times first). Once it's soft, cut it in half and scoop out the innards. Be careful not to puncture the skin.
Transfer to a bowl and add the other ingredients, except the paprika. Mix together thoroughly.
Fill each potato skin evenly with the filling.
Bake for 12-15 minutes. If you want to brown the top, place under the broiler for a minute or two. Enjoy!
Recipe by
Epicurean Vegan
at http://epicureanvegan.com/2012/05/20/vegan-twice-baked-potatoes/