Cinnamon-Soaked Wheat Berry Salad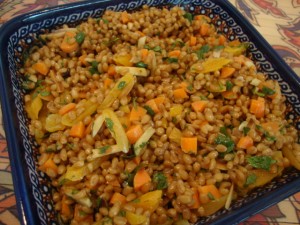 Salad
1 C wheat berries
1 2" cinnamon stick
¼ tsp salt
3 med carrots, peeled and cut into ¼" dice
1 heaping cup thinly sliced apricots
½ C toasted slivered almonds
6 Tbs chopped cilantro
Dressing
3 Tbs apple cider vinegar
3 Tbs olive oil
1 Tbs lemon juice
1 tsp Dijon mustard
1 tsp maple syrup
¼ tsp cinnamon
Soak the wheat berries and cinnamon stick in 3 cups of water for 8 hours or overnight. I didn't have any cinnamon sticks, so I added a dash or two of cinnamon later on. Transfer the wheat berries and water to a medium saucepan and bring to a boil. (This is where I added the cinnamon.)
Reduce heat, cover, and simmer for an hour. Drain any leftover liquid and remove cinnamon stick.
In a small saucepan, blanch the carrots, then drain. Toss the carrots with the wheat berries, apricots, almonds, and cilantro.
For the dressing, blend all of the ingredients until creamy and season with salt and pepper. Stir into the salad, cover, and chill for about an hour. Enjoy!
Recipe by
Epicurean Vegan
at http://epicureanvegan.com/2012/11/25/cinnamon-soaked-wheat-berry-salad/