Potato-Leek Chowder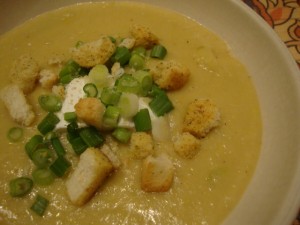 5 medium russet potatoes, peeled and cut into 1" dice
2 large leeks (mostly white parts with a little of the green parts), chopped
4 C veggie broth (I really like Better than Bouillon)
3 Tbs Earth Balance
2 cloves garlic, crushed or minced
6 Tbs nutritional yeast
1 C almond milk
2 tsp shallot salt
1 tsp celery salt
2 dashes black pepper
2 dashes white pepper
Optional ingredients: croutons, vegan cheddar shreds, sliced green onion, vegan sour cream
In a large soup pot, heat the Earth Balance and garlic over medium heat. Add the leeks and saute about 10 minutes, or until the leeks begin to soften.
Add the potatoes and broth and simmer over medium heat for about 20 minutes, or until the potatoes are tender. I prefer to not cook them too much, as I don't want real mushy potatoes.
I then transferred the soup to a food processor, working in batches. Each time, I added 2-3 Tbs of the nutritional yeast and some of the almond milk until I was out of each. I try not to blend it too much, as I like a few potato chunks left in there. If you use an immersion blender slowly add the milk and nutritional yeast as you blend the soup.
Season with the salts and the peppers and serve with your favorite soup toppings! Enjoy!