Zucchini, Tomato & Ricotta Tart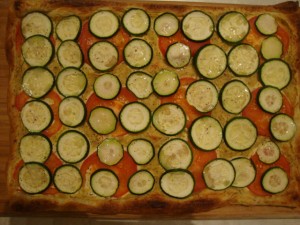 1 puff pastry sheet, thawed
1 medium zucchini, sliced thin
2 tomatoes, sliced thin
Olive oil
Salt and pepper
Ricotta:
14-oz tub of extra firm tofu, drained and pressed
1 tsp basil (sometimes I use fresh basil--about a cup)
1 tsp rosemary (Again, you can use 1 Tbs of freshly chopped rosemary)
1 tsp garlic powder
1 tsp salt
¼ tsp black pepper
2 Tbs lemon juice
⅓ C nutritional yeast
Optional: ¼ to ⅓ cup of vegan mozzarella, shredded
Preheat the oven to 350.
On a floured surface, roll out the puff pastry to fit an 11"x17" cookie sheet. It's okay if the edges go over the side---just tuck them in. Stick with a fork in several places.
Bake for 7-10 minutes (check it to make sure it's not browning). You want it just toasted.
To make the ricotta, combine all of the ingredients (except the cheese, if using) in a food processor. Transfer to a bowl, then stir in the cheese.
Spread about a cup or so of the ricotta onto the puff pastry. You can use as little or as much as you'd like. Top with the tomato slices. I got about 9 slices, so I spaced them evenly on top.
Next, layer on the zucchinis. Drizzle with olive oil and season with salt and pepper.
Bake for 20-25 minutes, or until the edges of the crust brown the zucchinis are tender.
Transfer to a large cutting board, then cut and enjoy!
Recipe by
Epicurean Vegan
at http://epicureanvegan.com/2013/01/12/zucchini-tomato-ricotta-tart/