Buffalo Cauliflower Potato Pizza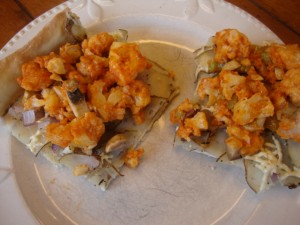 Wings:
1 C almond milk
1 C flour (any variety)
2 tsp garlic powder
1 head cauliflower, chopped into pieces
1 C buffalo wing sauce (I used Wing Time)
1 Tbs olive oil or Earth Balance, melted
Dough: (I made a quick, no-rise pizza dough. So if you like a thin crust, crispy dough, this is a good one to use. Otherwise, if you have more time, I recommend a yeast-based one).
2-1/2 C flour
2-3/4 tsp baking powder
1 tsp salt
1 Tbs olive oil
¾ C to 1 C warm water
Pizza:
3 large russet or Yukon Gold potatoes, sliced thin (my sous chef used a potato chip slicer---major time saver)!
¾ C red onion, chopped
1 tsp salt
½ tsp dried rosemary
½ tsp dried basil
¼ tsp black pepper
5 mushrooms, diced
3 celery stalks, sliced
1 tsp olive oil
Daiya mozzarella, optional
Vegan ranch dressing (Try Follow Your Heart Vegan Ranch or make your own)
Sauce:
2 Tbs flour
⅓ C warm water
3 Tbs Earth Balance
1 C vegetable broth, warmed up
Dash or two of red wine vinegar
So, first off, prep the potatoes. Once they're sliced, place in a bowl of water with 1 tsp of salt and let sit for 30-45 minutes.
This is a good time to make the dough and chop up the mushrooms, celery, and cauliflower. Drain the potatoes and season them with the rosemary, basil, and pepper; stir in the red onion.
To make the dough, mix the dry ingredients together in a stand mixer. Slowly add the olive oil and warm water until you have a dough that is just slightly sticky. Knead on a lightly floured surface for 5 minutes.
This is where timing comes in. Preheat oven to 400. Roll out the dough to fit an 11"x17" pan. I actually let it hang over the edges a little to account for shrinkage:
Stick with a fork in several places and bake 5 minutes. This is also where you'll need a hand. While your amazing helper lines the crust with the potatoes and onions
you'll want to be making the "wings." Pretty easy: Preheat oven to 450. Whisk together the milk, flour and garlic powder in a medium bowl. You'll have a pancake batter-like consistency. Add the cauliflower and coat them completely; transfer to a baking dish.
Bake for 15-18 minutes
While they're baking, whisk together the wing sauce and olive oil (or Earth Balance). Loosen the cauliflower if it's stuck to the dish. Pour the wing sauce over the cauliflower and bake another 5-8 minutes.
Now, while those are baking, saute up the celery and mushrooms in the olive oil. Also, start the sauce in a small saucepan. Combine the 2 Tbs of flour and ⅓ C warm water; set aside. Melt the 3 Tbs of Earth Balance in a the pan and add 1 Tbs of the flour-water mixture and whisk until smooth. Slowly whisk in the rest over medium heat. Just a little at time, add the broth. Whisk until thickened; add the red wine vinegar.
So now, your wings are ready to come out of the oven. Throw the pizza in the oven (still at 400 degrees) and bake for 10-15 minutes, or until the potatoes start to brown on the edges. This is a good reason to use a slicer to make them thin, otherwise, they'll take too long to cook and your crust will be lovely shade of black. I then chopped up the cauliflower into bite-sized pieces.
It even looks like chicken pieces! Try not to eat it all yet. Combine the cauliflower in a bowl with the celery and mushrooms and pour the sauce over them and coat well. When you have just a few minutes left on the potatoes, sprinkle the top with a little Daiya cheese.
Cut into squares and top with the cauliflower/veggie mix and ranch dressing. Thoroughly enjoy!
Recipe by
Epicurean Vegan
at http://epicureanvegan.com/2013/03/23/buffalo-cauliflower-potato-pizza/