Vegan Baked Jalapeno Poppers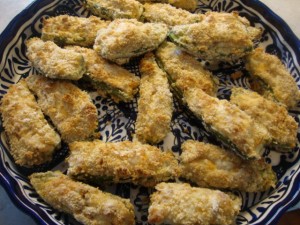 10 jalapeno peppers
Filling:
6-oz vegan cream cheese
½ C Daiya cheese shreds (I used a mixture of cheddar and mozzarella)
1 tsp cumin
1 tsp garlic powder
1 tsp chili powder
½ tsp salt
¼ tsp black pepper
2-3 Tbs vegan bacon bits
Coating:
Egg-replacer powder + water
almond milk
Breading:
¾ C flour (any variety)
4 Tbs nutritional yeast
1 to 1-1/2 C panko
Preheat the oven to 375.
To make the filling, combine all of the ingredients, except the bacon bits, in a mixer. Once well incorporated, fold in the bacon bits; set aside.
To prepare the peppers, cut the tops off and slice the peppers in half, length-wise. Clean out the insides, reserving any seeds you may want to keep (for heat).
To prepare the coating, I didn't measure out the egg-replacer powder and water . . . sorry. But I can tell you, I used about ⅓ C of Ener-G Egg Replacer and created a thick, meringue-like consistency by whisking in some water. I then combined it with about ½ to ¾ C of almond milk.
Next, combine the flour and nutritional yeast in a shallow bowl.
In another shallow bowl, pour in the panko. So here's the process:
Fill the pepper halves with some cream cheese filling, roll it in the milk, then the flour filling, then the panko. Place onto a lightly greased baking sheet.
Repeat with remaining peppers. Bake for 20-25 minutes, or until the tops begin to brown. I threw them under the broiler for about 2 minutes. Enjoy!
Recipe by
Epicurean Vegan
at http://epicureanvegan.com/2013/04/22/vegan-baked-jalapeno-poppers/