Tempeh Lettuce Wraps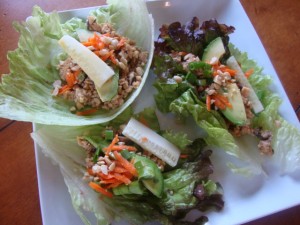 Filling:
2 8oz pkg. tempeh, broken into chunks
5 large mushrooms, diced
1 can water chestnuts, chopped (I didn't have any, but I would have used them if I did, so these are certainly optional)
1 Tbs olive oil
2 Tbs fresh garlic, minced
3 cloves of garlic, minced
1-1/4 C vegetable broth
¼ C fresh mint, chopped
⅛ C lime juice
1 Tbs tamari
1 Tbs toasted brown rice vinegar
2 tsp sugar
2 tsp sriracha
¼ tsp brown sugar
Sauce:
⅛ C lime juice
⅛ C water
⅛ C sugar
2 Tbs tamari
1 Tbs brown rice vinegar
½ tsp brown sugar
1 Tbs yellow miso
salt and pepper, to taste
Toppings:
2 carrots, shredded
1 cucumber, peeled and sliced into strips
Fresh basil, sliced into strips
1 C green onions, sliced
1 avocado, sliced into thin strips
½ C chopped peanuts and slivered almonds (also chopped)
12-16 large lettuce leaves
Whisk together the sauce ingredients in a small bowl and set aside. To make the filling, pulse the tempeh in a food processor. Depending on your preference, you can pulse it until you're left with course pieces, or process it a bit more like I did. It can be difficult to get a consistent texture if you want larger pieces.
Heat the oil in a large skillet and add the ginger and garlic. Cook for 1 minute, then add the tempeh (and water chestnuts, if suing) and broth. Cover and cook over medium heat for 5 minutes. Uncover, add the mushrooms, increase heat to medium-high, and cook ten minutes. Stir in the remaining filling ingredients and heat thoroughly.
Since you were so efficient in your prep work . . . ;-) you're ready to fill the lettuce wraps! Place a scoop in the center of the lettuce leaf and add your favorite toppings, and drizzle with about a tablespoon of the sauce. Enjoy!