Stuffed Shells with Butternut Squash and Cashew Cheese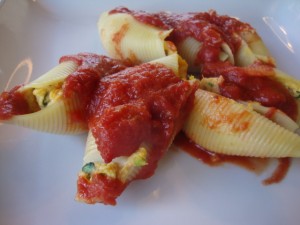 1 box jumbo shells
1 large butternut squash
⅓ C chives, chopped
⅓ C basil, chopped
salt and pepper
1 jar marinara sauce
Cashew Cheese:
2 C raw cashews, soaked in water for up to 2 hours, then drained
2 Tbs nutritional yeast
2 Tbs lemon juice
2 Tbs almond milk (I did add about another tablespoon)
1 tsp tahini (I accidentally used a tablespoon, hence, the extra almond milk, but it all worked out)
½ Tbs onion powder
1 tsp salt
Preheat the oven to 450. Cut the butternut squash in half. Roast for 30-45 minutes. Oven temps and cooking times vary, so check after 30 minutes; the squash should be tender and soft
Meanwhile, in a food processor, combine all of the cashew cheese ingredients and puree until smooth. Pretty easy. In a medium bowl, combine the chives, basil, squash and about ½ to ¾ C of the cashew cheese. Season with salt and pepper.
Of course, while all this is going on, boil the shells (10-15 minutes). Once drained, stuff each shell with the filling. Don't get too heavy handed---you can always add more to any of the shells.
Layer on the jarred marinara sauce. I used about ¾ of a jar. The rest will be great for a quick spaghetti lunch this week.
Bake at 350 for about 15 minutes. Enjoy!
Recipe by
Epicurean Vegan
at http://epicureanvegan.com/2013/05/28/stuffed-shells-with-butternut-squash-and-cashew-cheese/