Quinoa-Rice Salad with Tempeh and "Feta"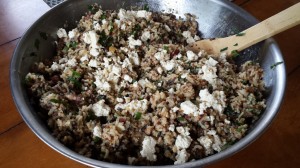 Salad:
2 C wild rice mix (cooked in 2-1/4 C vegetable broth)
1 C quinoa (cooked in 1-1/4 C vegetable broth)
1-1/2 C dried apricots, diced
1-1/2 C toasted nuts, chopped (I used walnuts and pecans, but I think pepitas and almond slivers would be great too)
1 C fresh parsley, chopped
Tempeh + marinade:
8-oz pkg. tempeh, cut into small cubes
¼ C tamari
1 Tbs vegan Worcestershire sauce
¼ tsp black pepper
½ tsp salt
1 tsp brown sugar
1 garlic clove, minced
Tofu "feta": (adapted)
1 14-oz pkg extra firm tofu, drained and pressed
¼ C cashews
2 Tbs olive oil
1 tsp yellow or mellow miso
2 Tbs reserved marinade (below)
Marinade:
3 Tbs lemon juice
5 Tbs white wine vinegar
1-1/2 Tbs yellow or mellow miso
1 tsp salt
2 garlic cloves, minced
Dressing:
½ C lime juice
4 Tbs red wine vinegar
4 Tbs olive oil
½ tsp salt
I recommend making the feta and marinating the tempeh ahead of time, even a day or two ahead if you can. I didn't, and I think the salad still turned out great, but it'll bring out the flavors even more. We'll start with the feta.
Slice the tofu into ½" slabs and place into a large dish. Whisk together the feta marinade and coat the tofu thoroughly. Cover and refrigerate for several hours, or preferably over a night or two. Next, blend the cashews, olive oil, miso, and reserved marinade. I used my blender, but I couldn't get a smooth consistency, so I transferred the mixture to a mortar and pestle, to mash it up even more.
Crumble up the tofu with your fingers, then add the cashew mixture; combine well. Keep refrigerated in an airtight container.
To make the tempeh, combine all of the marinade ingredients in a medium zip bag and add the tempeh. Let it marinade for several hours to overnight.
When ready, heat a tiny bit of olive oil to a small skillet and add the tempeh. Saute over medium heat until the tempeh has crispy edges.
Meanwhile, cook the rice and quinoa (separately) according to package instructions. I tend to use veggie broth for added flavor. I also used what quinoa I had: some red, some regular.
Combine the two in a large bowl and refrigerate until cooled. (Be sure to place a hot pad or trivet underneath the bowl when placing directly onto a cold, glass refrigerator shelf.) Once cooled, fold in all of the ingredients: nuts, feta, parsley, tempeh, and apricots. Whisk together the dressing ingredients and pour over the salad; fold gently to incorporate everything. Enjoy!
Recipe by
Epicurean Vegan
at http://epicureanvegan.com/2013/07/05/quinoa-rice-salad-with-tempeh-and-feta/