Bowties with Butternut Squash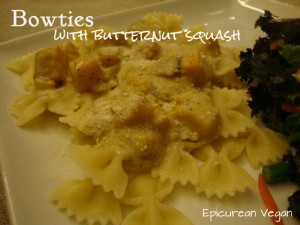 10-12 oz bowtie pasta
1 med butternut squash, peeled and cut into ½" pieces
1 Tbs olive oil
2 Tbs Earth Balance margarine
4 Tbs flour
⅓ C white cooking wine
1-1/2 C almond milk
1 Tbs nutritional yeast
¾ tsp sage
Salt and pepper, to taste
vegan Parmesan, optional
Preheat oven to 400.
In a medium bowl, coat the squash with the olive oil, then spread onto a baking sheet. Roast the squash for 30-40 minutes, stirring them once halfway through.
Meanwhile, boil the pasta until al dente, then drain. But while the pasta is cooking, prepare the sauce. In a medium saucepan, melt the Earth Balance. Slowly add the flour and whisk until thick and smooth. Next, whisk in the white cooking wine and blend until smooth. Little by little, add the almond milk, whisking until thickened over medium heat. Add the nutritional yeast, sage, salt, and pepper.
Fold in the squash and remove from heat. You can either keep the pasta and sauce separate, or combine the two. Serve immediately and enjoy!
Recipe by
Epicurean Vegan
at http://epicureanvegan.com/2014/02/03/bowties-with-butternut-squash/