Tofu Caesar Wraps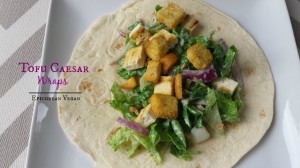 Dressing:
2 cloves garlic
12-oz box firm silken tofu
3 Tbs lemon juice
⅛ C olive oil
2 Tbs capers
4 tsp caper juice/brine
½ tsp mustard powder
Dash of sugar
Salt and pepper
(I added 2 Tbs of nutritional yeast to the original dressing recipe)
.
The rest:
.
1 large bunch of romaine, chopped
½ large red onion, sliced
⅓ C cashews chopped
1 14-oz tub extra firm tofu, cut lengthwise into 4 slabs
Cooking spray
Salt and pepper
Croutons
Flour tortillas or other wraps
To make the dressing, puree the whole garlic cloves in the food processor. Add the rest of the ingredients and puree until smooth, scraping the sides of the bowl halfway through. I then transferred the dressing to a mason jar and stored in the fridge.
To prepare the tofu, lightly spray a grill pan with cooking spray and over medium heat, brown the tofu, about 8-10 minutes per side.
Remove to a cutting board and let them cool about 5-10 minutes.
Meanwhile, toss the romaine, red onion and cashews in a medium bowl.
I then scooped out about ½ a cup of the dressing into a small bowl and whisked in about 1-2 tablespoons of water---it's a pretty thick dressing. Feel free to use almond milk, veggie broth or leave it as is. I then added the dressing to the salad mixture and thoroughly combined it all.
Cut the tofu into small squares.
To assemble, I warmed the tortilla in the microwave for just a few seconds; it's easier to roll when warm. Place a large mound of salad in the tortilla, then some tofu and a few croutons. Wrap and enjoy!