Pasta with Cashew Cream & Cheese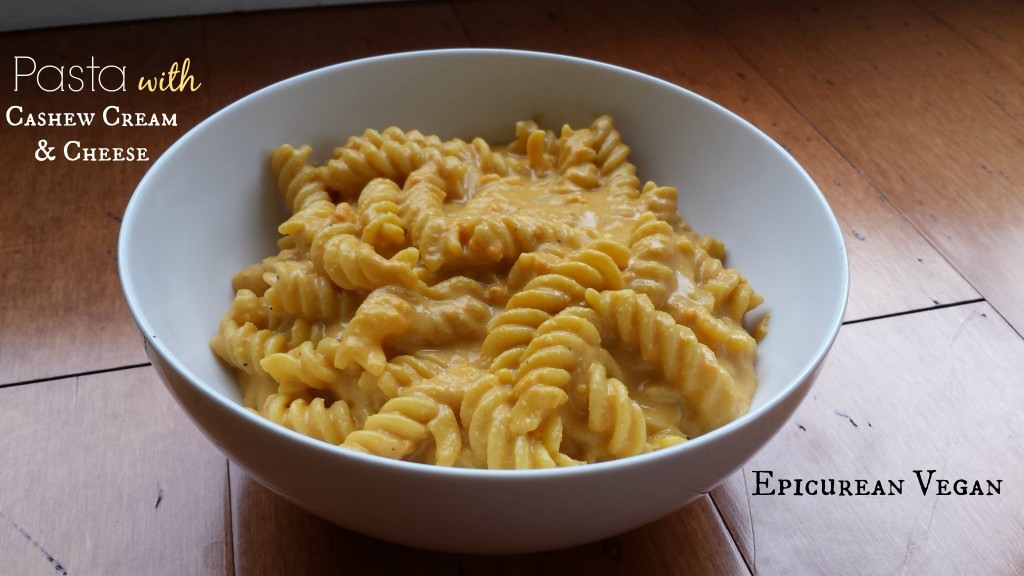 16-oz uncooked pasta, such as elbows, shells or spirals
1 to 1-1/4 C vegetable broth (it just depends on how thick you want it)
4-oz vegan cheddar, shredded (I used Follow Your Heart brand)
⅓ C nutritional yeast
1 C cashews, soaked for at least an hour in hot water (if you can; no biggie if you can't soak them)
½ C water
1 tsp apple cider vinegar
1 tsp lemon juice
½ tsp salt
2 dashes of nutmeg
Salt and pepper, to taste
Optional ingredients: sneak in those veggies by adding peas, carrots or broccoli. Or spice it up with green chilies or salsa.
Cook the pasta according to package instruction, or until al dente. Meanwhile, make the cashew cream. If you soaked the cashews, drain them and transfer to a food processor. Puree until finely ground, scraping the sides of processor bowl if necessary. Add the water, apple cider vinegar and salt. Puree 2 minutes, or until smooth.
Drain the pasta, then return it to the pot. Over medium-low heat, fold in the grated cheese, cashew cream, broth and nutritional yeast. Combine well and continue to stir until the cheese is completely melted.
Season with the nutmeg, salt and pepper. If using, add the optional ingredients and stir until heated through. Enjoy!
Recipe by
Epicurean Vegan
at http://epicureanvegan.com/2014/07/30/pasta-cashew-cream-cheese/