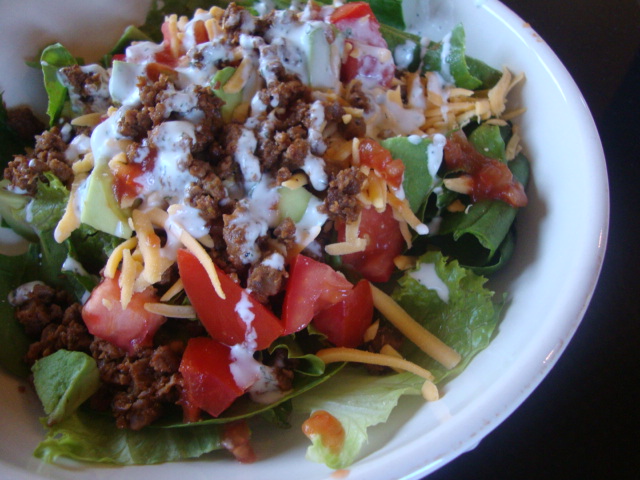 This is a light and easy meal that only takes about 10 mins to pull together. I'm loving these Meatless Ground Crumbles from Boca! They are perfect for this meal. If you don't have taco seasoning, it's easy to make your own–below is a recipe.
INGREDIENTS:
1 pkg (12 oz) Boca Meatless Ground Crumbles, cooked according to package instructions
Lettuce
Vegan cheddar, shredded
2 roma tomatoes, chopped
1 avocado, chopped
Salsa
Tortilla chips or strips (found with the salad dressings and croutons)
Tofutti sour cream or vegan ranch dressing
Taco seasoning:
1 Tbs chili powder
2 tsp onion powder
1 tsp ground cumin
1 tsp paprika
1 tsp garlic powder
1 tsp dried oregano
1 tsp sugar
1/2 tsp salt
DIRECTIONS:
Layer lettuce (I used a combo of spinach and romaine), ground crumbles, cheese, tomato, avocado, salsa, tortilla chips or strips and vegan ranch or Tofutti sour cream and enjoy!