Vegan MoFo, Day 4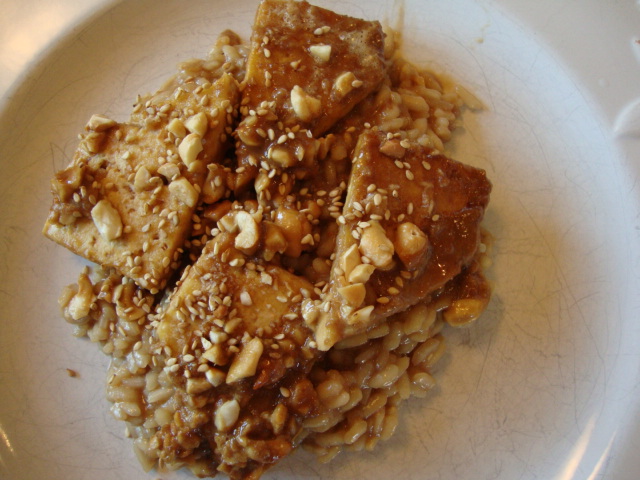 I know, a very monochromatic meal! The recipe called for mixing half the sauce with the rice, or other accompaniment, but feel free to omit that step, especially for a less beige result. I also recommend adding some steam asparagus and/or mushrooms, or broccoli. This is simple and the sauce is rich and delicious!
INGREDIENTS:
1-14oz pkg firm tofu, drained and pressed
2 Tbs olive or peanut oil
1/3 C chopped peanuts, cashews, or a combination of both
Toasted sesame seeds
Sauce:
1/4 C soy sauce
1 Tbs tamari
1/4 C tahini
2 Tbs rice wine vinegar
2 Tbs brown sugar
1/2 tsp hot pepper sesame oil
1/2 a small white onion, chopped
1/3 C water
Salt, to taste
Accompaniment:
1 C Arborio rice (risotto)
1 Tbs Earth Balance margarine
1-1/2 C water
DIRECTIONS:
I recommend making the sauce first so that you don't have to pan-fry the tofu at the same time. In a food processor, combine all of the sauce ingredients and puree until smooth. Set aside. In a medium sauce pan, combine the water, margarine, and water. Bring to a boil, reduce heat to low and cover tightly with a lid for 15 minutes. Meanwhile, in a large skillet, heat the oil. Slice the tofu into 7-8 steaks, then slice each diagonally in half. Add to the pan and fry each main side until golden brown.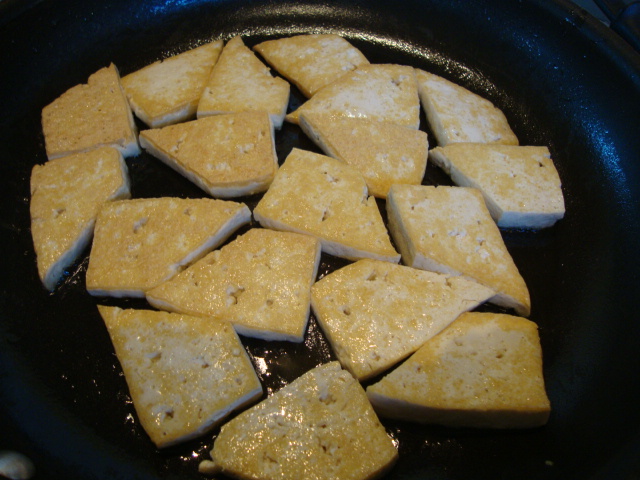 Pour sauce over tofu and coat each piece of tofu.Remove from heat and stir in nuts. If using, add steamed (or roasted) veggies of your choice. Serve over rice, sprinkle some toasted sesame seeds and enjoy!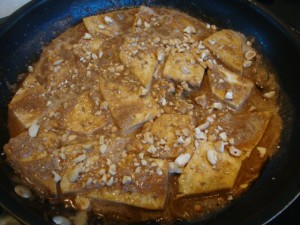 Recipe: Adapted from Epicurious