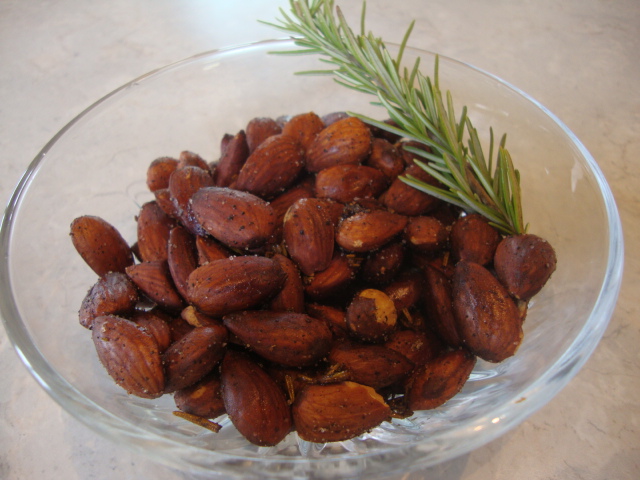 My neighbor brought these over the other night and I loved them! There are so many reasons to eat almonds: vitamin E, protein, zinc, iron, and monounsaturated fats. They make the ideal snack because just a handful will satisfy your hunger in between meals. The recipe calls for 2 cups of almonds, but I had about 2-1/2 cups, so I added the extra–they came out perfect! Eat 'em while they're warm, too.
INGREDIENTS:
1 Tbs finely chopped fresh rosemary
1 Tbs extra-virgin olive oil
1 tsp chile powder
3/4 tsp kosher salt
Dash of ground red pepper
1 (10-ounce) bag whole almonds (about 2 cups)
DIRECTIONS:
Preheat oven to 325. Combine all ingredients in a medium bowl; toss to coat. Arrange nut mixture in a single layer on a baking sheet lined with foil. Bake at 325  for 20 minutes or until lightly toasted. Cool to room temperature.
Recipe source: Cooking Light