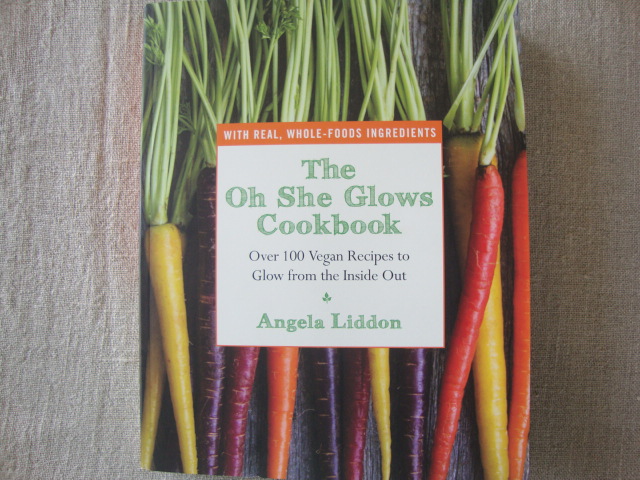 I was thrilled to have an opportunity to post a recipe from Angela Liddon's The Oh She Glows Cookbook AND be able to give a copy away to one lucky reader! I've been glued to this cookbook since I received it because not only is it full of beautiful photographs (about every recipe has a pic), but the recipes look downright delicious. Like Liddon, I had some unhealthy eating (or should I say, not eating) habits before I went vegan. I can truly say that a vegan diet saved my life. This is a great cookbook to have in your collection because it is full of tasty, healthy recipes that use only whole, minimally-processed ingredients. If you've been a fan of the Oh She Glows website, you're going to love this cookbook with 75 brand-spankin' new recipes, plus 25 updated reader favorites. So if you want to win this beautiful cookbook, leave a comment; it's that easy! You have until midnight (PST) on Sunday, April 6. I'll announce the winner on Monday, April 7th.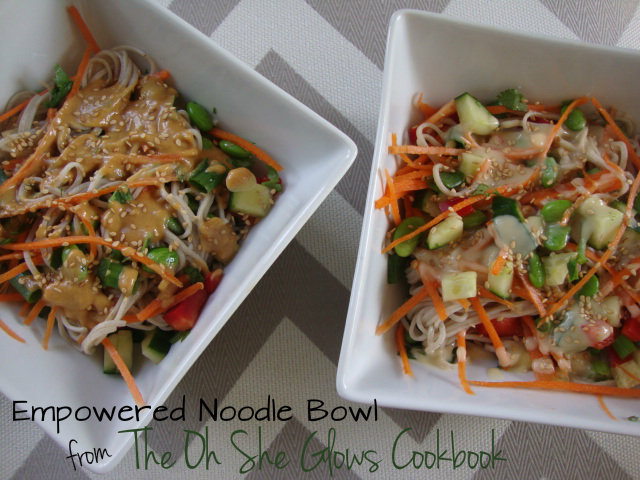 You'll love Liddon's Empowered Noodle Bowl, two ways: Thai Peanut & Orange-Maple Miso on page 153. I decided to make both dressings and honestly, I can't tell you which one is my favorite; they're both delicious. The Thai Peanut is thicker with some garlic kick, whereas the Orange-Maple Miso is a tad thinner and milder. They're both easy enough to make, so why not do both? This is a fantastic lunch or light dinner, that comes together rather quickly. I like how the veggies take precedence over the noodles—it's not a heavy pasta dish, but rather, a bowl of fresh veggies with some noodles thrown in and coated with a tasty dressing. A winner for sure.
Serves 4
INGREDIENTS
Thai Peanut Sauce
1 large garlic clove
2 Tbs toasted sesame oil
3 Tbs natural smooth peanut butter
2 tsp grated fresh ginger
3 Tbs fresh lime juice
2 Tbs + 1 tsp low-sodium tamari
1-2 tsp granulated sugar
Orange-Maple Miso Dressing
3 Tbs light miso
2 Tbs rice vinegar
1 Tbs toasted sesame oil
1 Tbs tahini
1/4 C fresh orange juice
1 Tbs water
1 tsp maple syrup
Salad
4 oz gluten-free soba noodles
Extra virgin olive oil, for the noodles
16 oz bag frozen shelled edamame, thawed
1 red bell pepper, diced
1/2 English cucumber, diced
1 carrot, julienned
4 green onions, chopped
1/4 C cilantro, chopped
Sesame seeds, for serving
DIRECTIONS
To make the Thai Peanut sauce, combine all of the ingredients in a food processor and blend until completely smooth. Do the same for the Orange-Maple Miso Dressing.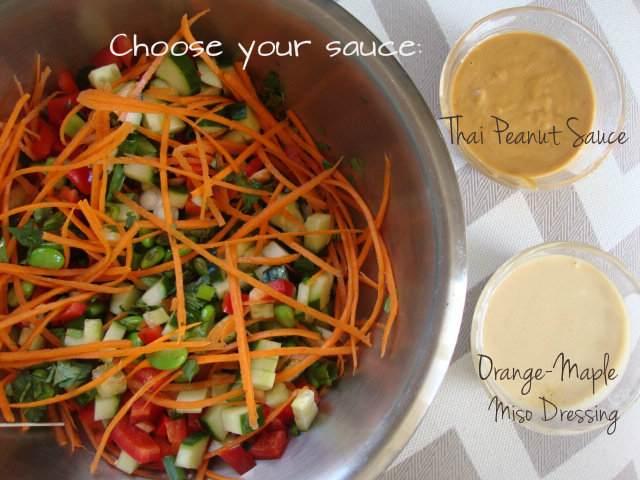 Cook the noodles according to instructions on the package (5-9 minutes). Drain, rinse under cold water and transfer to a large bowl. Drizzle with a little of the olive oil, then toss with the veggies and dressing of your choice. Top individual servings with sesame seeds and enjoy! If you like the looks of this recipe, you're going to want this cookbook, so leave a comment and you just may get it! Good luck!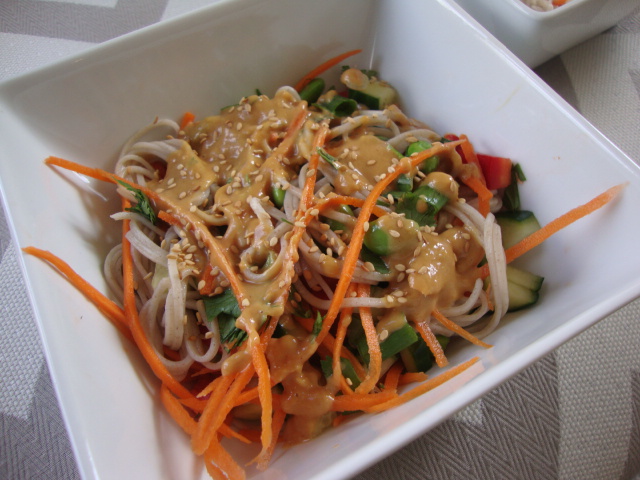 With the Thai Peanut Sauce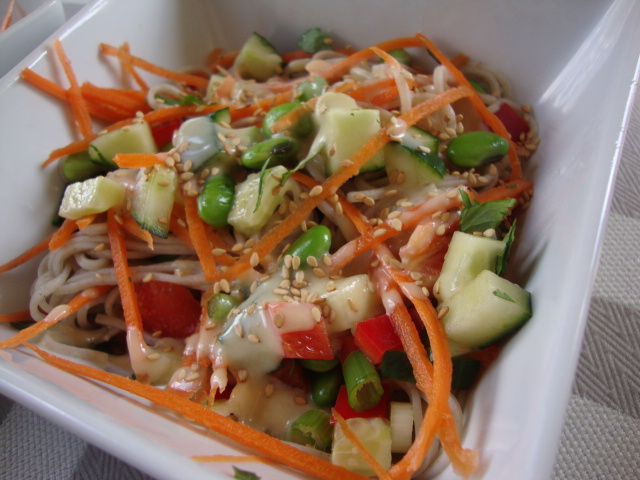 With the Orange-Maple Miso Dressing
 Reprinted by arrangement with AVERY, a member of Penguin Group (USA) LLC, A Penguin Random House Company. Copyright © GLO BAKERY CORPORATION, 2014.