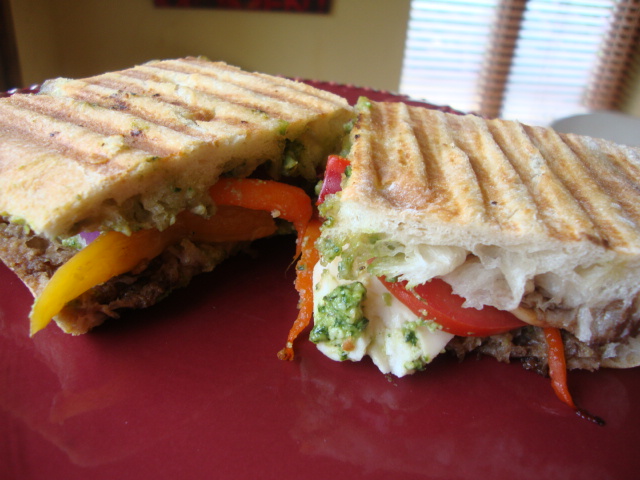 This was certainly a learning experience seeing as this is the first time I used my new panini maker. (Try Cuisinart's Griddler –it was only $50 at Bed Bath & Beyond–and be sure to use their 20% off coupons to save even more–thought it was good deal and I really like this panini maker). So here's my tip (which you probably can already guess…) slice everything super-duper thin, otherwise, you'll have way too much spillage (see my pic). Live and learn. Anyway, I can't wait to try out other ingredients–even a dessert variety! (Stay tuned). . .
INGREDIENTS:
1 large loaf of ciabatta bread will give you about 4 sandwiches: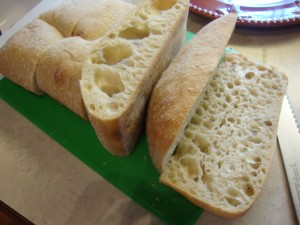 But try flat bread, or any other kind of thick bread you want
Remember . . . slice very thin:
Red bell pepper
Roasted red peppers
AvocadoMushrooms
Red onion
Tomato
Vegan mozzarella
Other stuff:
Basil pesto, jarred or homemade
Balsamic vinegar
Salt and pepper, to taste
Olive oil
DIRECTIONS:
Lightly brush the outside of each slice of bread with the oil. Pile on the veggies in an order that makes sense to you then drizzle with balsamic vinegar and add the salt and pepper. On the other slice of bread, spread on the pesto and then top the sandwich with it. Place in the panini maker and press down. Obviously, you can easily make these sandwiches on the stove or even on the grill–just don't overload them with stuff—they'll be too hard to flip over.
Other combinations:
Portobello mushrooms with vegan mozzarella, pesto and roasted red peppers
Roasted zucchini with pesto, roasted red peppers and muchrooms
Smart Deli Turkey with vegan cheese, horseradish, tomato and avocado
The ideas are pretty endless—you can't go wrong with your favorite ingredients!
Great served with sweet potato fries: