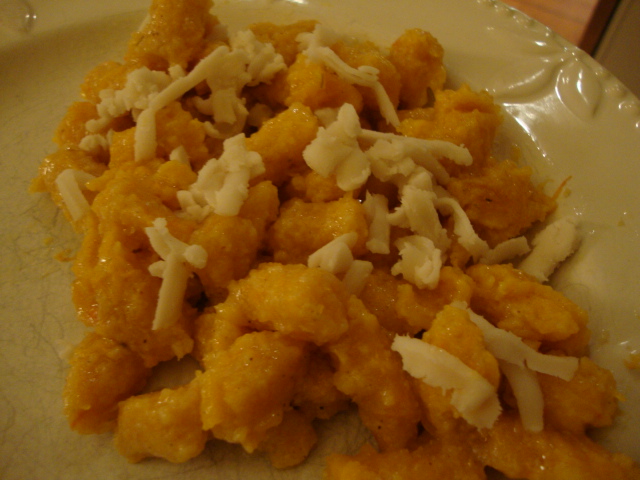 This was probably one of the strangest meals I ever made. Not in a bad way, just a strange process. This recipe is from my friend over at Kitchen Challengers and I finally got around to attempting it—I had never made gnocchi before, but have always wanted to, plus, I needed to veganize the recipe, which wasn't hard.  I suggest making the dough ahead of time and perhaps even having some help once it comes time to boil these squash pillows. The results were fabulous! I love squash, and combined with the seasonings and some vegan mozzarella, the gnocchi was savory and delish!
INGREDIENTS:
1-1/2 lbs butternut squash (I used one large and one small)
1 Tbs olive oil
1-1/2 tsp Ener-G Egg Replacer powder + 2 Tbs water
1-1/4 C flour
1/4 tsp nutmeg
Salt and pepper, to taste
1/2 C Vegan Parmesan
5 Tbs Earth Balance margarine
2 Tbs fresh sage, chopped
1/4 C Vegan Rella
DIRECTIONS:
Preheat oven to 425. Cut the squash in half, clean out the seeds and place in a baking dish with 1/2 C (I used about a cup) of water. Bake for 45 minutes. Using tongs, I transferred the squash to a cooling rack.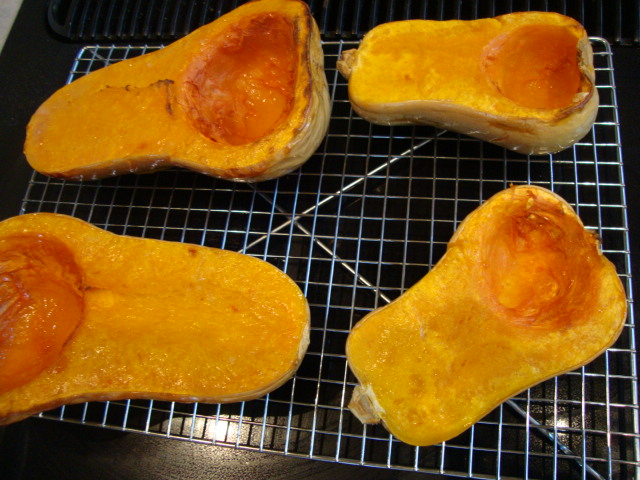 Once they have cooled enough to handle, scrape out the squash into a bowl and mash them. I used a pastry blender.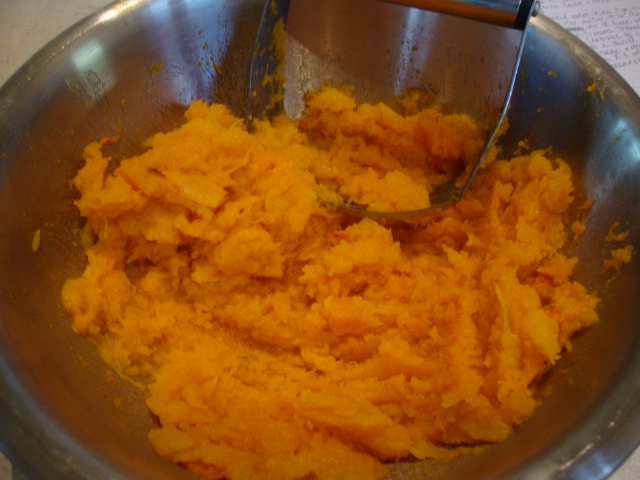 Mix in the egg replacer, flour, nutmeg, salt, pepper and vegan Parmesan. Cover and chill for at least 30 minutes. I did this step earlier in the day, so it sat in the fridge for a couple of hours. I think the longer the dough chills, the easier it is to use later.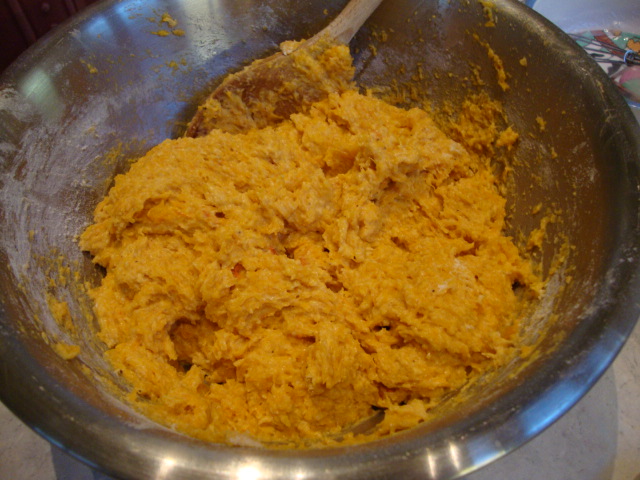 Boil 6 quarts of salted water. So here comes the fun part. The recipe recommends using a pastry bag and kitchen scissors to create the gnocchi. It gave me a good excuse to head over to Bed Bath & Beyond to pick one up—I had been needing one anyway. I've also seen it where the dough can be rolled out by hand and cut into pieces. Either way will work . . .I'm sure. 😉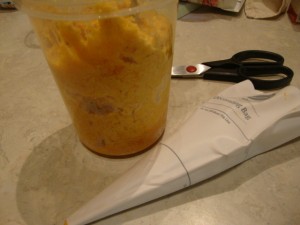 So squeeze out 1/2″-1″ "dumplings" and cut into the boiling water. You can cook about 20-30 at a time and within 2-3 minutes, little water-logged Cheetos, will rise to the surface—one by one. Using a slotted spoon or mesh strainer, fish them out and transfer to a large bowl of ice water.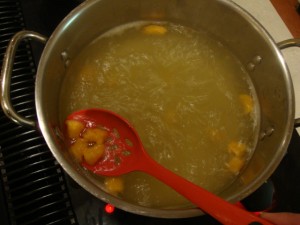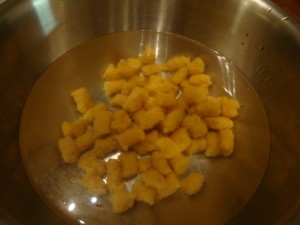 After a few batches, I then transferred them to a bowl lined with paper towels. You will probably have to add more ice to the water once or twice until you have made all the gnocchi.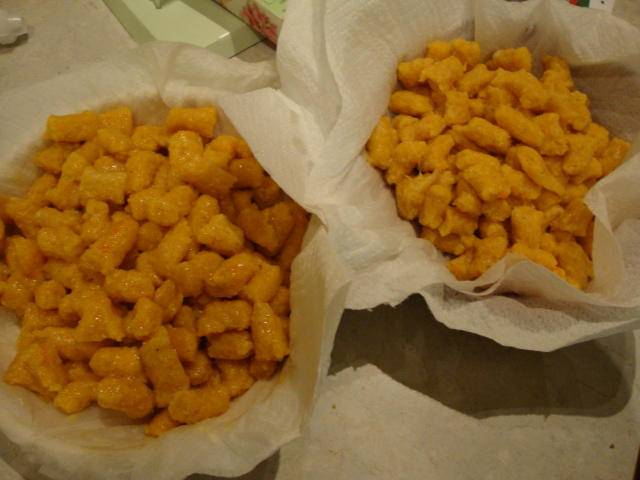 In a large skillet, melt the margarine and add the sage and gnocchi until warmed through, about 2-3 minutes.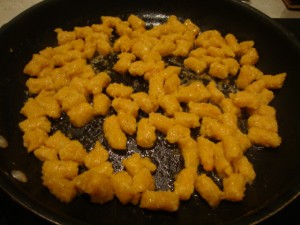 Season with salt and pepper and sprinkle with mozzarella. Enjoy!