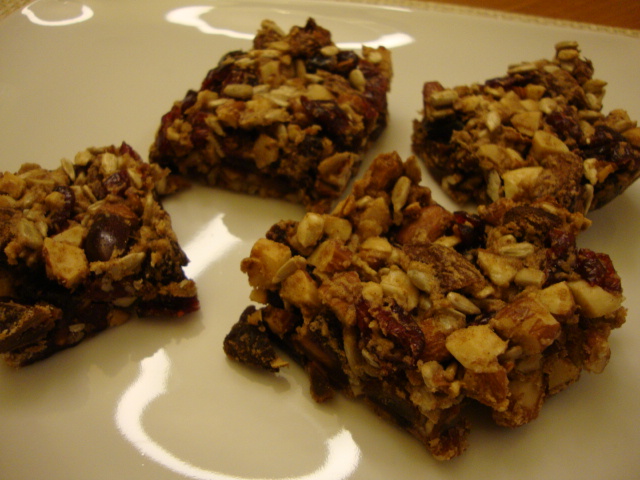 I came across these all natural energy bars on Oh She Glows. I made a couple of alterations like using almonds and sunflower seeds instead of walnuts, and using brown rice flour instead of kamut flour. They are chewy, crunchy, a little bit sweet, and ideal for on-the-go. They're also great for munching on while you're hiking. The only thing I found was that they didn't hold together very well for cutting them up. I think part of it, is that I used too small of a pan even though I went with the size recommended in the original recipe. I suggest using a shallow baking sheet, not a 8″ baking dish.
INGREDIENTS:
1/3 C brown rice flour
1/8 tsp baking soda
1/8 tsp baking powder
1/4 tsp salt
1/2 tsp cinnamon
1/3 C brown sugar
1 C almonds, toasted
1/2 C sunflower seeds, toasted
1/2 C dried cherries or craisins
12 dates (about a cup), pitted and chopped
1 C apricots, chopped
1 flax egg: 1 Tbs flax meal + 3 Tbs warm water
1 Tbs almond milk
1 tsp vanilla
DIRECTIONS:
Preheat oven to 350. Line a 9″x13″ baking sheet with parchment paper; set aside. Toast the almonds and sunflower seeds in a dry skillet over medium heat, stirring often until golden brown. In a large bowl, whisk together the flour, baking soda, baking powder, cinnamon, and salt. Stir in the nuts and fruit.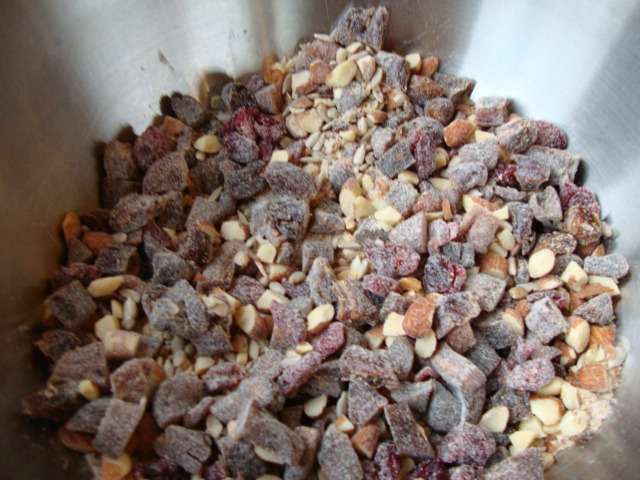 Combine the flax mixture with the vanilla and let it sit for 10 minutes. Add the flax meal and almond milk to the dry mix and combine well. Spread the mixture onto the prepared pan. You can press down pretty hard—I would say until the mixture is about a 1/2″ thick.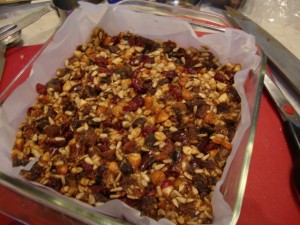 Bake for 33-35 minutes. Remove from the pan and let cool for 10 minutes.
Return it back into the pan and place in the freezer for another 10 minutes. Remove from the freezer, cool for 10 minutes and then cut into squares. I'm not sure what the rationale behind this cooling process is, especially since they still fell apart a little when I cut them, but that's just what the recipe says to do . . .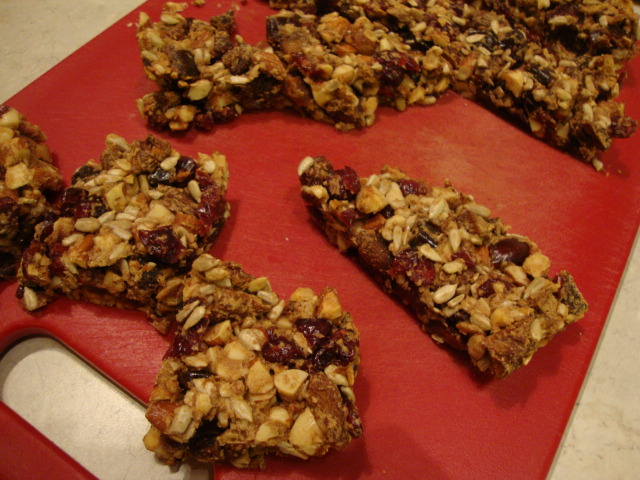 No matter how they're cut, they're delicious. Enjoy!