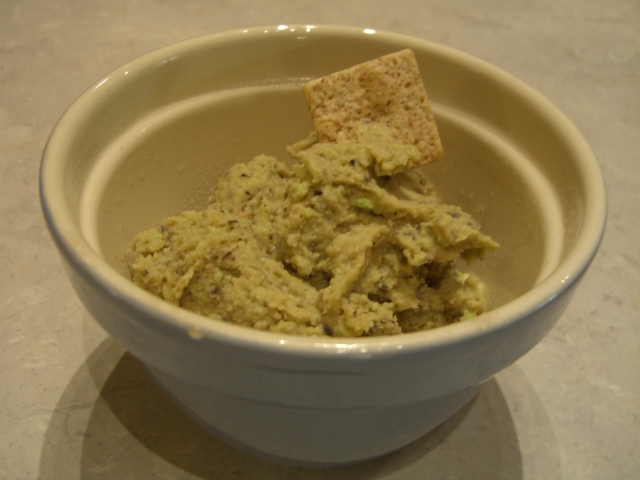 This is a great dip, but at first, I thought it was a little bland, so I added about a cup of diced (food processed) black olives and it was just what this dip needed! I think a diced up roasted red pepper or two would be yummy too. Great for crackers, sour dough squares or even on celery and other veggies.
INGREDIENTS:
1 garlic clove, crushed
1 Tbs chopped green onion
1 C canned Great Northern or other white beans, drained and rinsed
1 C canned chickpeas, drained and rinsed
1 C cooked shelled edamame (I steamed them for a few minutes)
1 Tbs lemon juice
Salt and pepper
1 C finely diced black olives
DIRECTIONS:
In a food processor, process the garlic and green onions until minced. Add the beans, chickpeas, edamame, lemon juice , olives (if using) and salt and black pepper to taste and process until smooth.
Transfer to a medium bowl and serve right away or cover and refrigerate for 1  hour. Will keep for 3 days if stored properly. Enjoy!
Recipe source: 1000 Vegan Recipes