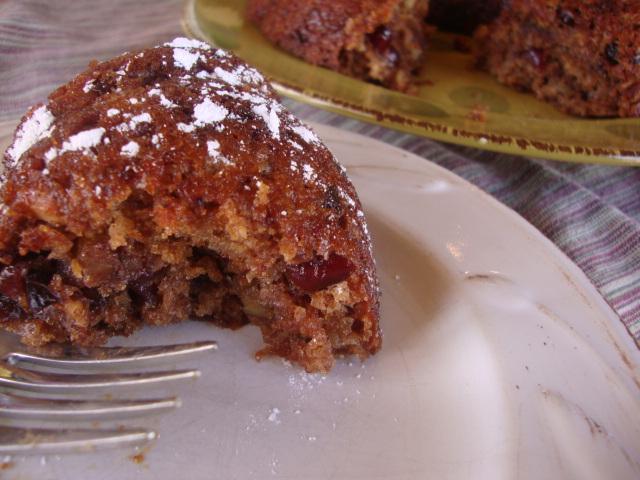 The original recipe is called Low-Fat Vegan Coffee Cake but it really has more of a muffin-like texture, consistency and taste. "Coffeecake" just doesn't seem to fit. It's not to say it's not delicious because it's extremely tasty and moist. Plus…prep time was about 10 minutes and only required one medium sauce pan! How easy is that?! This would be great for dessert, brunch (Easter is coming up…) or just good 'ol teatime.
INGREDIENTS:
1/4 cup vegan margarine
2 cups applesauce
1 cup flour
1-1/2 cups wheat bran flakes or oat bran (I used the flakes and broke them up just a little bit)
1 cup sugar
1 tsp baking soda
1 tsp cinnamon
1/2 tsp nutmeg
1/4 tsp cloves
1 cup raisins (I used dried cranberries)
1 cup chopped nuts (optional-but I used walnuts)
DIRECTIONS:
Preheat the oven to 350 degrees and grease a 9″ square baking pan. I obviously used a bundt pan–I think it makes a much prettier presentation. In a medium-large saucepan, combine the margarine and applesauce over medium heat and heat until margarine is melted. Remove from heat.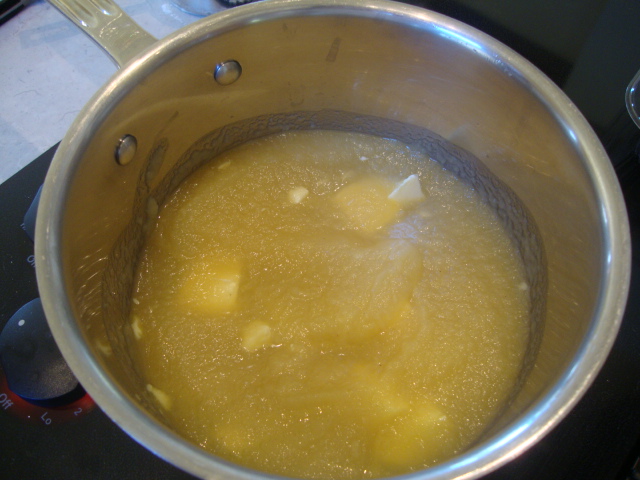 Add the remaining ingredients, combine well and pour into prepared baking pan. I had to shake the pan to even out the batter. It should resemble oatmeal.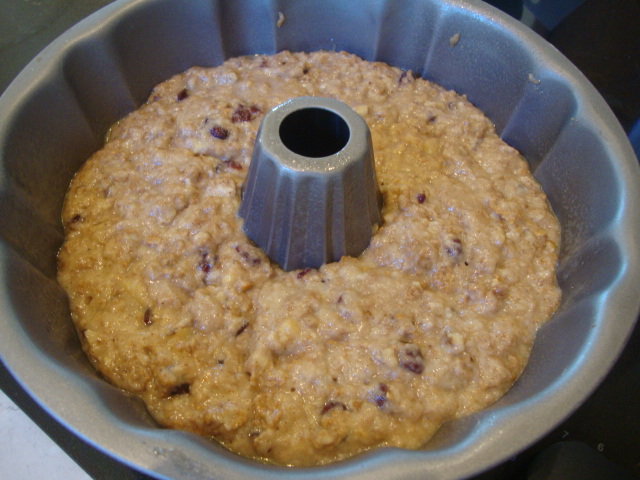 Bake for 25-30 minutes, however, I ended up baking mine for 45 mins before an inserted knife came out clean. All ovens run differently, so just keep an eye on it. Leave in the pan and place on a rack to cool before removing from the pan.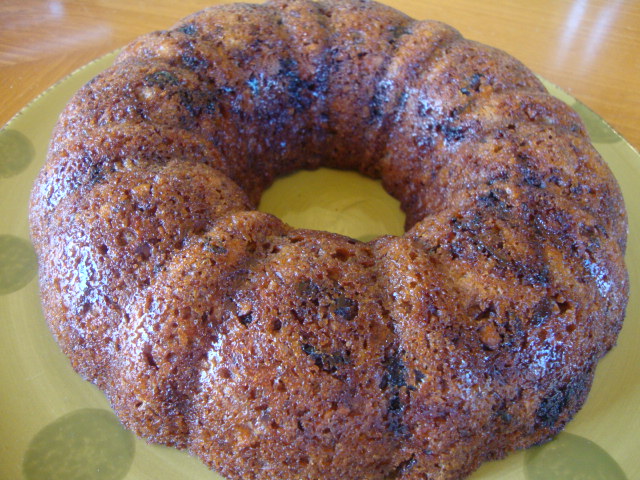 Top with confectioners' sugar, of desired. (I say yes–it'll look pretty) Enjoy!