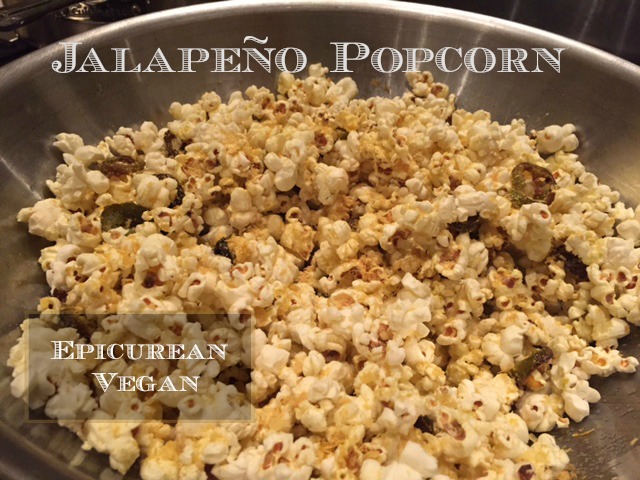 I can't tell you how thrilled I am to bring this to you. Our dear friends (and neighbors) came up with this recipe a few years ago and it has been a staple every time we get together–which is a lot. Sadly, they are moving out-of-state, but they couldn't leave without sharing the famous Jalapeno Popcorn recipe. This is the perfect Super Bowl snack (GO BRONCOS!) The jalapenos and nutritional yeast are a fantastic combination and I guarantee it will become your go-to snack for get togethers. Make it spicy or keep it tame; either way, you'll love it!
INGREDIENTS:
1 to 1-1/2 C sliced jalapenos (I use jarred)
3 Tbs coconut oil
3/4 C popcorn kernels
2-3 Tbs vegan margarine, melted
Salt
Nutritional yeast
DIRECTIONS:
Using a slotted spoon, scoop the jalapeno slices onto a couple of paper towels.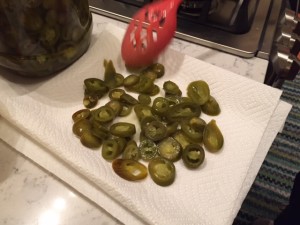 Roll them up in the paper towel to soak up some of the liquid. If you want the popcorn extra hot, skip this step. Next, start to melt the coconut oil over medium-high heat and lay the jalapenos flat in the pan. Cover and let cook 2-3 minutes, or until the bottoms of the jalapenos just start to brown.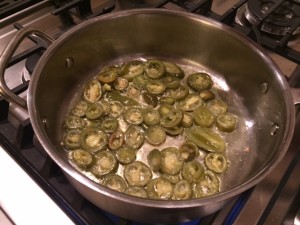 Dump in the popcorn, cover, and shake the pan a little. This will get the kernels on the bottom of the pan and move the peppers up on top of the kernels.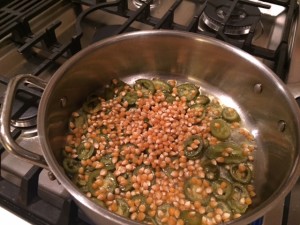 Cover and hold the lid closed tight and shake every 10-15 seconds to keep everything from burning. The kernels will start to pop after about 1-2 minutes. You will definitely need to run the oven fan because the jalapenos will fill the air! (You may suffer from Jalapeno Lung.) Once you stop hearing the popping, remove from the heat and transfer to a large bowl. The jalapenos will be a little crispy–yum! Jessie recommends using a slightly curved rubber spatula to drizzle and fold in the butter.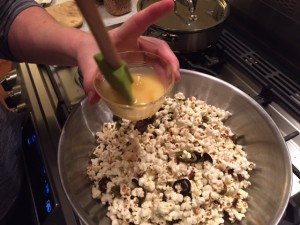 Sprinkle with salt, stir, then sprinkle with nutritional yeast.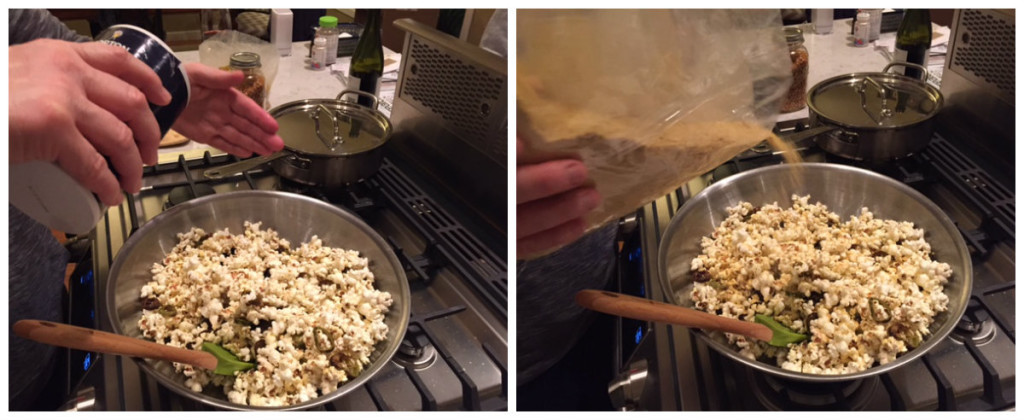 Fold everything together again and add more seasoning, if needed. It's so easy and so delicious! Thank you, Jessie!