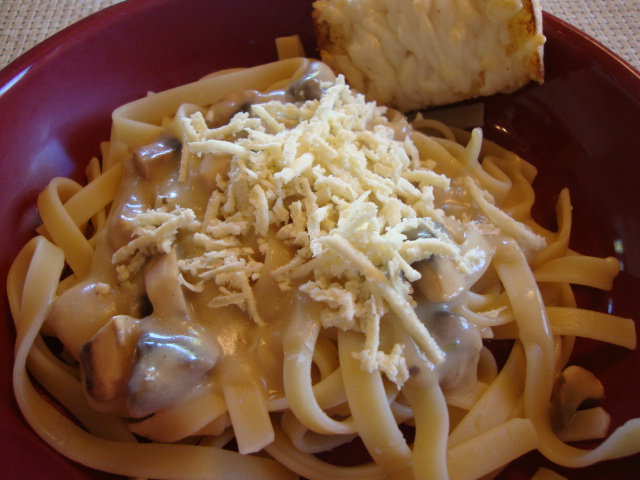 This is probably my favorite vegan white sauce—it doesn't taste fake and I think even non-vegans would have a tough time complaining about this one. It's simple to make and versatile. I added diced mushrooms, but feel free to add other veggies, or just serve it plain over pasta. I like to serve it with a little sprinkle of Daiya cheese and I made garlic toasts out of leftover buns—a great meal!
INGREDIENTS:
1/4 C Earth Balance
1/2 C minced shallots
3 Tbs all-purpose flour
1 Tbs dry white wine
1 C vegetable broth
2 C unsweetened soy milk
Dash ground nutmeg
1 bay leaf
Salt and ground white pepper
DIRECTIONS:
I recommend having all the ingredients measured out and ready to go–it'll be a lot easier. In a medium sauce pan, heat the margarine over medium heat. Add the shallot and cook until softened, about 4 minutes. Do not brown. Stir in the flour until it is absorbed. Stir in the wine, broth, soy milk, nutmeg, and bay leaf and cook, stirring until thickened, about 5 minutes. (For me, after about 12 minutes it had not thickened, so I resorted to ever-trusty tablespoon of cornstarch and 1/4 C of broth mixture–worked immediately). Remove the bay leaf and discard. Here, the recipe says to transfer to a food processor or blender and blend until smooth, which baffled me since the sauce was pretty smooth already. If the shallots weren't minced finely enough, I could understand, but after thinking about it, I opted to not have to clean the food processor, too. Maybe something spectacular was to happen and I missed out, but I decided to take my chances. It turned out great. I added about 1-1/2 C of diced mushrooms and removed from the heat. Season with salt and white pepper to taste.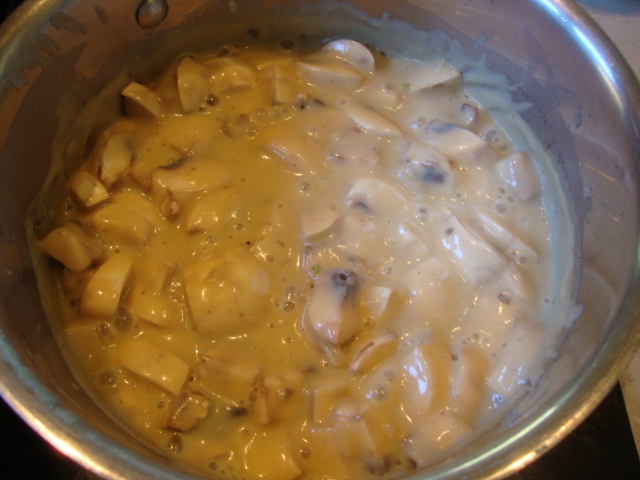 During all this, I cooked up some fettuccine and made up some garlic toast with some leftover sandwich buns by spreading them with some Earth Balance, sprinkling on some garlic salt and Daiya mozzarella cheese. Under the broiler for about 2-3 minutes, they came out great. Enjoy!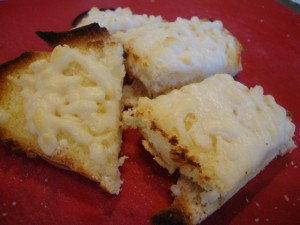 Recipe source: 1000 Vegan Recipes