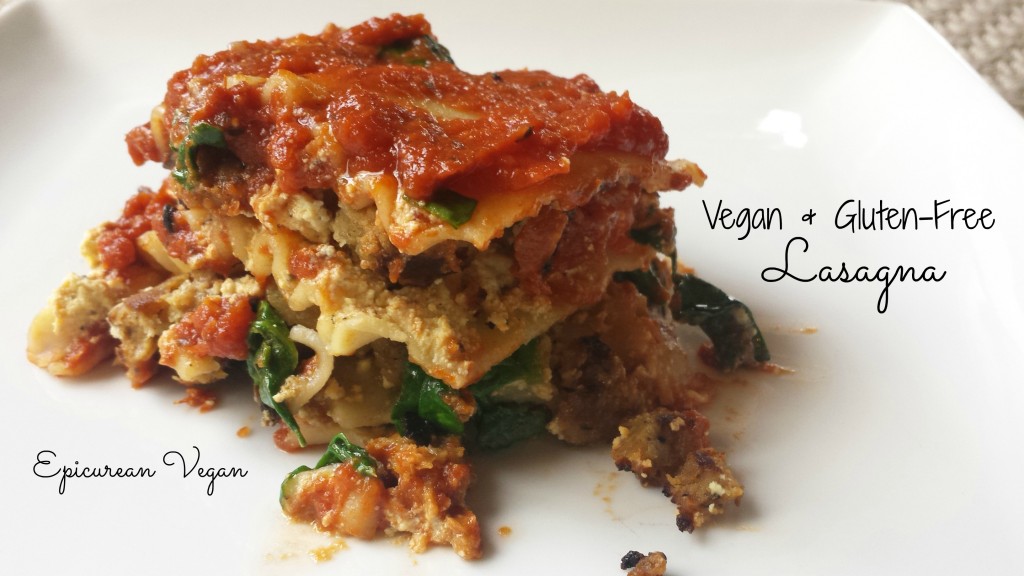 I've had some rice lasagna noodles sitting in the cupboard for quite a while, so I thought I'd finally give them a try. They are from Ener-G (which strangely, I couldn't find on their website). I was really impressed with them. You can use your favorite ingredients, but I went with tofu ricotta, mushrooms, spinach and Field Roast (which isn't gluten-free, so omit for a 100% gluten-free dish). The noddles are the perfect size for an 8×8″ pan, so great for a small batch. I also recommend cooking them until they are completely done. Typically, when I make lasagna with regular noodles, I don't cook them all the way because they tend to cook more in the sauce in the oven. These rice noodles, however, don't do that, so make sure you cook them completely. I also usually add 2-3 extra ones in case any of the noodles come out ripped and unusable. I would certainly use these gluten-free noodles again—I thought they tasted great.

Vegan & Gluten-Free Lasagna
Ingredients
12 Ener-G rice noodles (If you'd like, add 2 more if any rip during the boiling process)
2 Field Roast sausage links, crumbled (I used Apple-Sage flavor--again, omit if you want this 100% gluten-free)
2 C mushrooms, sliced
2 C fresh spinach, chopped
1 tsp olive oil
1 clove garlic, minced
1 jar marinara sauce
.
Tofu Ricotta
.
14-oz container extra firm tofu, drained, pressed and crumbled
1 tsp basil
1 tsp rosemary
1 tsp salt
1 tsp garlic powder
¼ tsp black pepper
⅓ C nutritional yeast
2 Tbs lemon juice
Optional: ½ C Daiya Mozzarella shreds
Directions
Preheat oven to 375.
Cook pasta according to package instructions (about 10-12 minutes).
Prepare the ricotta by placing all of the ingredients, except the Daiya cheese, in the food processor and blend until smooth. Transfer to a bowl and fold in the cheese. Set aside.
Saute the Field Roast in the olive oil and garlic on medium heat for 5-7 minutes.
To assemble, pour about a cup of the marinara on the bottom of an 8x8" baking pan and top with three cooked noodles. Layer on some mushrooms, spinach and Field Roast. You can also spoon a little sauce on top.
Repeat layers until you've topped the lasagna with the final three noodles.
Pour the rest of the sauce on top.
Cover with foil and bake for 25-30 minutes. Slice and enjoy!