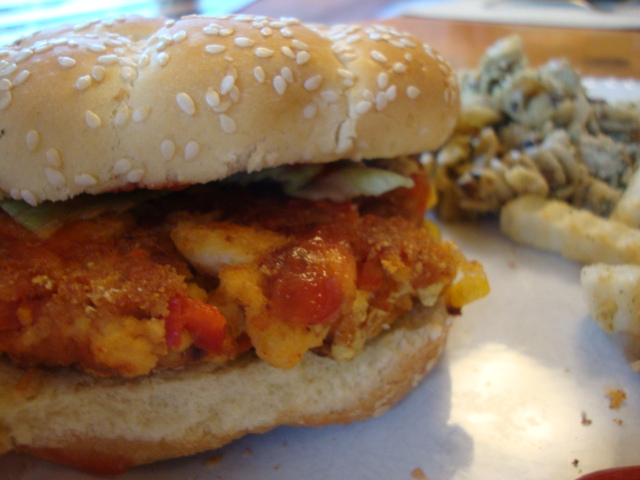 This recipe is from Colleen Patrick-Goudreau's The Vegan Table and she recommends freezing the tofu for at least 48 hours and thawing 6-8 hours before using. It apparently makes a more chewy, enjoyable burger and I think she's right! They were delicious. Incidentally, I've read in other places that freezing tofu before making patties, nuggets and other "meaty" meals, is a must. So if you can plan for that, it's well worth it. Anyway, these burgers were tasty and full of flavor and better than any veggie patty I've had.
INGREDIENTS:
1-16oz pkg extra firm tofu, frozen and thawed
2 Tbs ground flaxseed
6 Tbs water, plus extra for binding
1-1/2 C bread crumbs
1 red bell pepper, finely diced
1 C corn kernels
1/4 C vegetarian refried beans
3 Tbs tomato paste
1 tsp cumin
2 tsp chili powder
1 tsp onion powder
1/2 tsp smoked paprika
1/4 tsp cayenne pepper
Salt, to taste
Canola oil, for frying
DIRECTIONS:
Squeeze out water from thawed tofu and crumble into a large -sized bowl. Leave some large chunks, but crumble enough so it will bind well with other ingredients. (I think a pastry blender works great for this).
Combine ground flaxseed and water in a small food processor bowl or blender (I used a blender) and blend until thick and viscous. Add flaxseed mixture to tofu, along with bread crumbs, bell pepper, corn, refried beans, tomato paste, cumin, chili powder, onion powder, paprika, cayenne, and salt. Combine everything with a wooden spoon, and then with your hands to feel the consistency. Make sure spices are thoroughly combined and that you can create patties from the mixture. Taste and add salt, as necessary.  Add water to help bind patties, as needed. (I didn't find that I needed more water).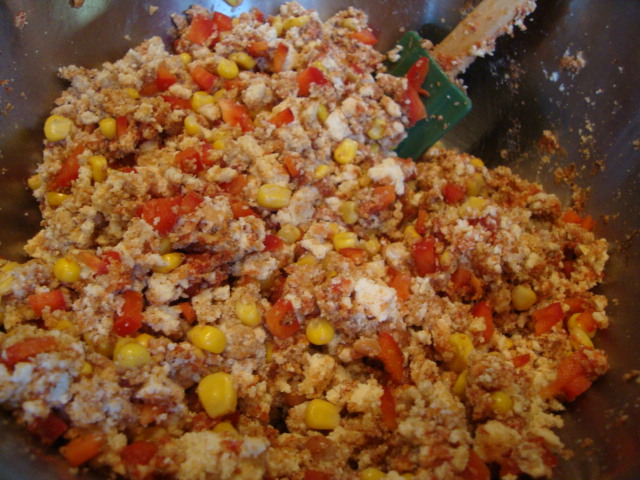 (oops…I didn't use a wooden spoon)!
Using your hands, form mixture into patties. (I got 9 patties out of it).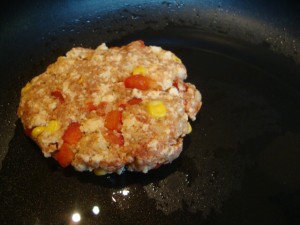 In a saute pan lightly coated with oil, fry over medium heat for 5-7 minutes on each side, until lightly browned and crispy. Be careful to keep patties in tact.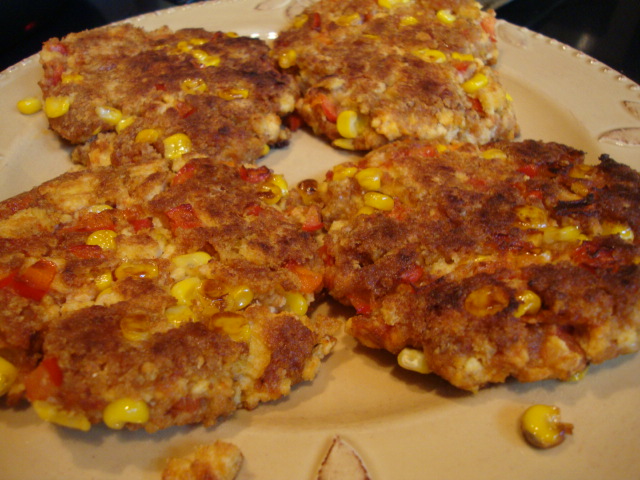 I served these on hamburger buns with lettuce and tomato. I think avocado slices and salsa would be great, too. Enjoy!