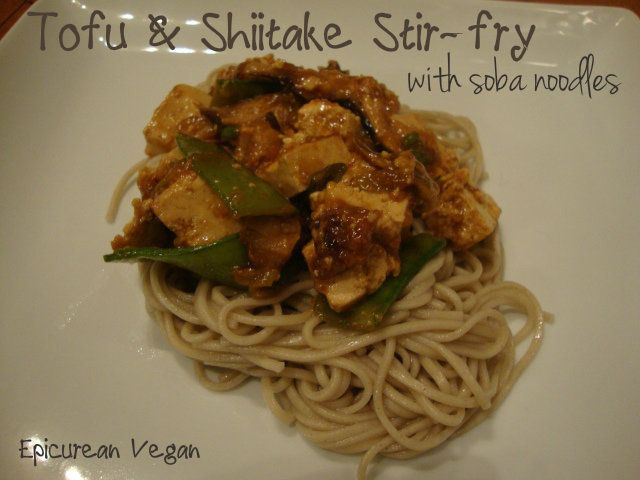 This is such an easy and tasty dinner to throw together—as long as you remember to give the veggies time to marinate. Even it's just an hour, that's quite all right. Feel free to use your own favorite veggies, but keep in mind, that you may have to marinate certain vegetables separate, depending on whether or not they need longer cooking time. The vegetables I chose could be all cooked together at the same time, so it made this dish a breeze.
INGREDIENTS
Marinade:
1/2 C tamari
2 Tbs brown rice vinegar
2 tsp agave
2 tsp sesame seed oil
2 Tbs sherry
1 tsp vegan Worcestershire sauce
2 cloves garlic, minced
1 Tbs ginger root, grated
1/2 C green onion, sliced
The rest: 
8-oz shiitake mushrooms, sliced
14-oz pkg. extra firm tofu, drained, pressed and cubed
3/4 C snowpeas, cut in half
6 to 8 oz buckwheat soba noodles ( I like Hakubaku brand. They come in a package of 3 separate rolls of noodles. I used 2 of the 3)
1 Tbs olive oil
2 Tbs arrowroot
DIRECTIONS:
Combine all of the marinade ingredients in a resealable bag. Mix it up well, then add the mushrooms, tofu and snowpeas. Coat the vegetables thoroughly and lay flat in the refrigerator for at least an hour, turning over once, half way through.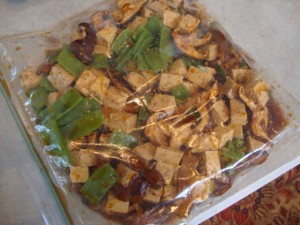 In a large skillet, heat the olive oil. Drain and reserve the marinade in a measuring cup; you should have about a 1/3 of a cup; set aside. Saute the vegetables over medium heat for 8-10 minutes, or until they begin brown. Meanwhile, heat the water for the noodles. They'll only take 4 minutes to cook once adding them to boiling water, so it will all come together pretty quickly.
When the vegetables are about done, whisk the arrowroot into the reserved marinade. Make sure you don't have any clumps. Pour it into the skillet, coat the vegetables well, and reduce the heat to low.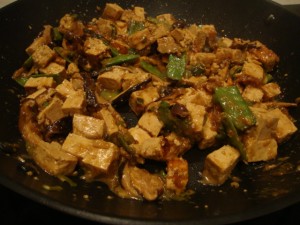 Drain the soba noodles and serve with the vegetable mix on top. Enjoy!