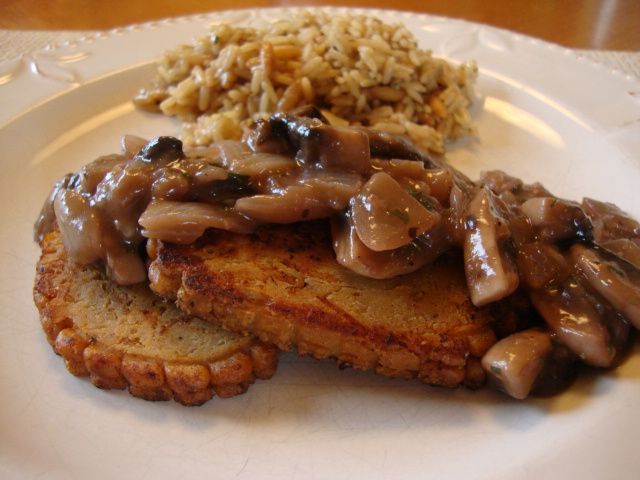 Not only do I love the taste, I have always enjoyed the smell of coq au vin when it cooks. It goes beautifully with a sliced Field Roast and served with a mushroom and herb pilaf.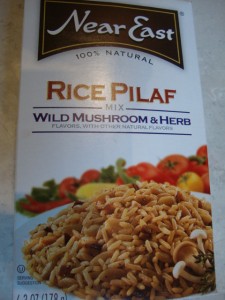 INGREDIENTS:
6-8 mushrooms, sliced
1 small onion, diced
2 cloves garlic, minced
2 Tbs butter, divided
1 Tbs olive oil
1/2 C red wine
1 C  vegetable broth (plus more for thinning out sauce, if needed)
3 Tbs flour
3 Tbs water
1 Tbs fresh parsley, chopped
Salt and pepper, to taste
1 one-pound Field Roast, thawed if frozen
DIRECTIONS:
Heat olive oil and 1 tablespoon of butter in a large skillet over medium-high heat. Add garlic and saute until it starts to pop. Add onion and cook until tender. Add mushrooms and cook for about 3-4 minutes. Add broth and simmer until it reduces a little, then add the wine. Cook for about 5 minutes until it, too, reduces a little. Combine water and flour (it will be pretty thick) and stir into the mushroom mixture. Season with salt, pepper, and stir in parsley.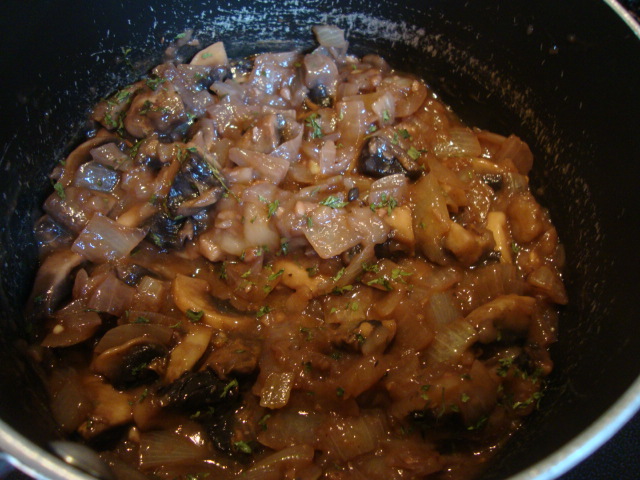 I then transferred the sauce to a saucepan and kept it warm over low heat. It may thicken up more, so you might want to add some broth to it until you've reached the desired consistency. In the same skillet (wipe out with a paper towel) add remaining tablespoon of butter.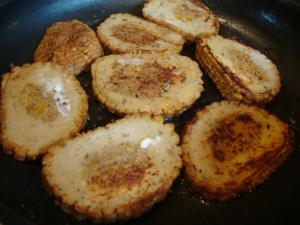 Place slices of the Field Roast in pan and brown on both sides, about 3-5 to minutes per side. Ladle sauce over a slice or two of the roast and serve with the pilaf. Enjoy!