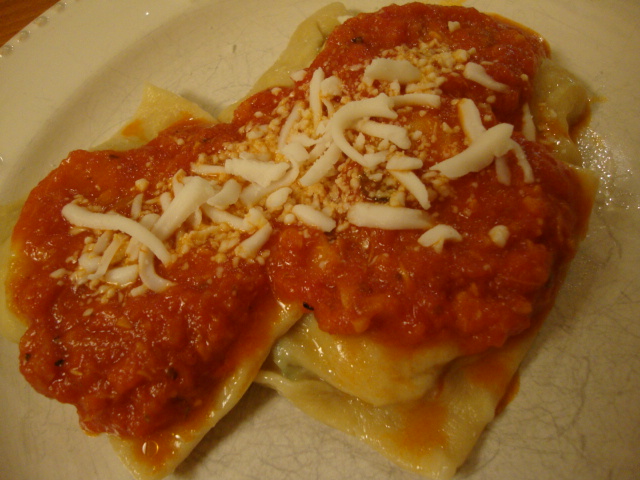 I lost my pasta maker. You're probably wondering, how on earth do you lose a twenty-five pound kitchen appliance? Well, if I knew that, it wouldn't be lost, right? 😉 Somehow, it didn't make the one mile move to our new house a year ago—and we didn't use movers; just us. Apparently, the pasta maker in question ran away with my Chantal soup pot because it's missing as well. Not sure what kitchen conspiracy happened, but I'm hopeful that someday, both (and whatever else was in the box) turns up. So I don't recommend making ravioli without a pasta maker, otherwise, the process is a lot harder than it needs to be. The taste however, was well-worth the work. There's nothing like fresh pasta.
INGREDIENTS:
Pasta Dough:
1/3 C nutritional yeast
2 C flour
1 Tbs olive oil
Dash or two of salt
1/2 to 3/4 C water
The rest:
1-1/2 C sliced mushrooms
1-1/2 C chopped spinach
1 C vegan mozzarella, shredded
1 jar marinara sauce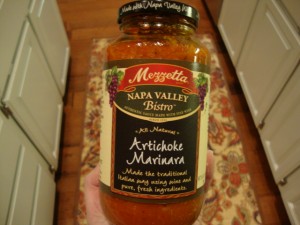 Yummy, gluten-free sauce.
In a food processor with the sharp S blade, pulse the nutritional yeast a few times to make a fine powder. Then switch to the plastic dough/bread blade.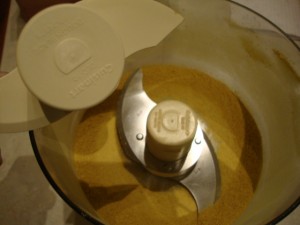 Add the flour and salt and pulse to combine. While the machine is running, add olive oil and water to form an elastic-y dough.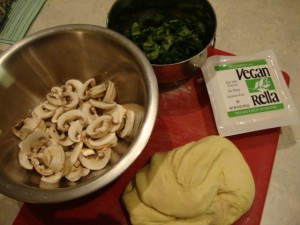 Roll out small pieces of dough at a time into a long rectangle. I used a pizza cutter to slice into squares. Place some spinach, 2-3 mushroom slices and a pinch or two of cheese.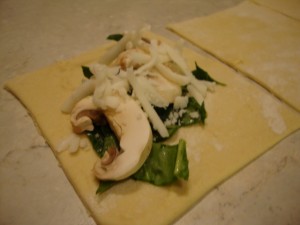 I then folded over one side and pinched the edges.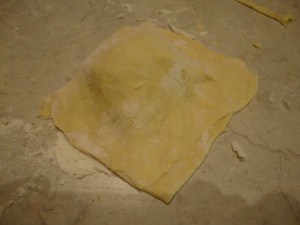 To seal the edges, I used the pizza cutter to the three sides.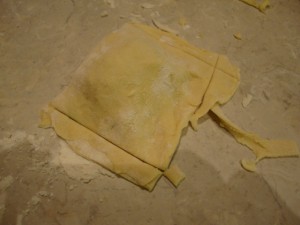 I ended up with 18 pretty ugly raviolis that I placed on floured waxed paper, otherwise, if they sit too long, they will stick to the surface and it would be a terrible mess.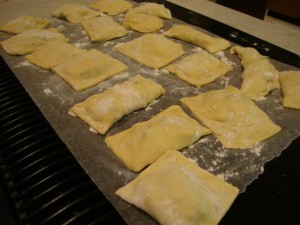 I boiled about 3-4 raviolis at a time, then transferred to an oiled, glass dish. Be sure to turn the ravioli once to cook the tops and bottoms—about 1 minute per side.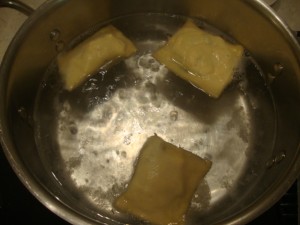 Brush the tops with olive oil as well. Ladle sauce over individual servings and top with any remaining vegan mozzarella. Enjoy!