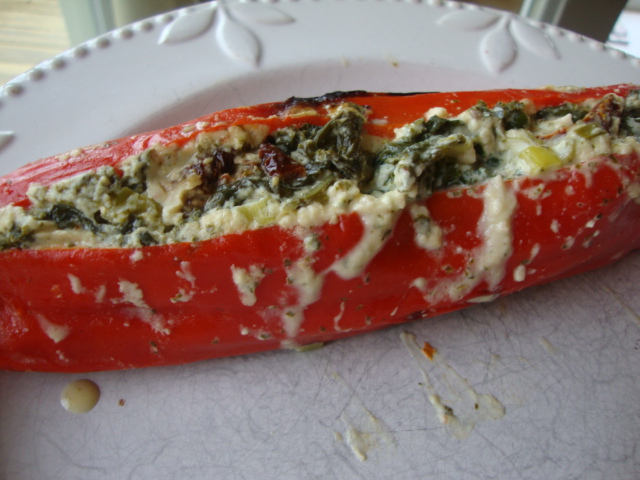 Geez . . . it's been a while since I last posted. The Sixth Grader (or should I say, soon-to-be The Seventh Grader) was on a week-long field trip so me and The Husband ate out a lot this week. Produce in my refrigerator, however, was feeling very neglected, so last night I decided to make these. They were delicious! We threw them on the grill, but you can also bake them in the oven at 350 for about 20 minutes. Use this stuffing for small chilies and serve them as appetizers, too.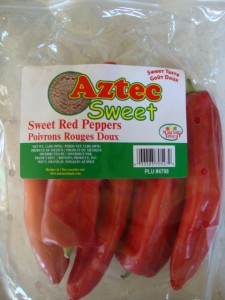 INGREDIENTS:
3 large sweet chili peppers
10-oz Tofutti cream cheese
3 Tbs lime juice
1 tsp cumin
1 C fresh cilantro, chopped
6-8 sun-dried tomatoes, diced
1 bunch of kale
6-8 green onions, sliced
1/2 C vegan pepper jack cheese, shredded
2 tsp garlic, minced
2 tsp olive oil
DIRECTIONS:
Using a food processor or mixer, cream together the cream cheese, lime juice, cumin, and cilantro.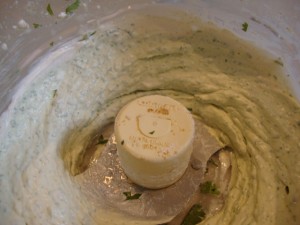 In a large saucepan or skillet, heat the olive oil and garlic. Add the kale. One bunch may seem like a lot (5-6 cups) but it will cook down quite a bit. Cook it over medium heat, constantly stirring it. I found that tongs work great for this. Cook for 4-5 minutes, or until nice and wilted.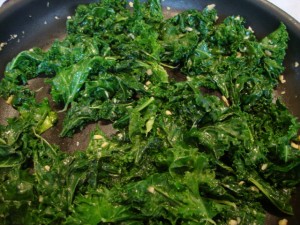 In a large bowl, combine the sun-dried tomatoes, green onions, and cheese. Mix in the cream cheese mixture, then stir in the kale.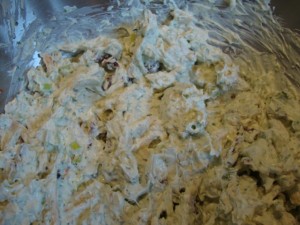 To prepare the chilies, there are a number of different ways to do it. First, slice the tops off and pull out the insides–as much as you can. You can either stuff them from the top, or slice them in the side. You can also slice them lengthwise, stuff them, then put them back together. I sliced into the side of it and found that that just worked better for the size of these chilies.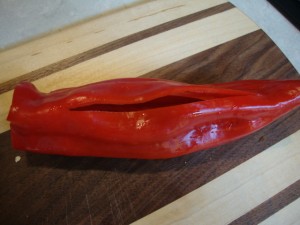 Preheat the grill to a medium-high heat. Wrap the stuffed chilies in foil and place on the heated grill. Cook them for about 10 minutes, turning them often. Once the filling starts to drip out from the foil, remove them from the grill. Unwrap from the foil and enjoy!